*This post may have affiliate links, which means I may receive commissions if you choose to purchase through links I provide (at no extra cost to you). As an Amazon Associate I earn from qualifying purchases. Please read my disclaimer for additional details. Thank you for supporting the work I put into this site!
What a whirlwind the last few months have been! September marks the end of the third quarter for many businesses but, it also marks the beginning of the holiday season for me.
I mean, I feel like it is all downhill from here. We start with Labor Day, go into Halloween, then Thanksgiving, and then Christmas and New Year. These next few months are going to roll by so fast!
August was a busy month for me and I wish I had gotten these done sooner. Balancing remote learning for my 12-year-old, a full-time job, and still finding the time to create printables is definitely a challenge, but I love doing it!
For September's saving challenges, I decided to try and keep things simple. Just some nice, clean looking printables for you to track your savings.
Each of these money saving printables is available in dollars and euros. Sign up for my newsletter and get them for FREE in the resource library!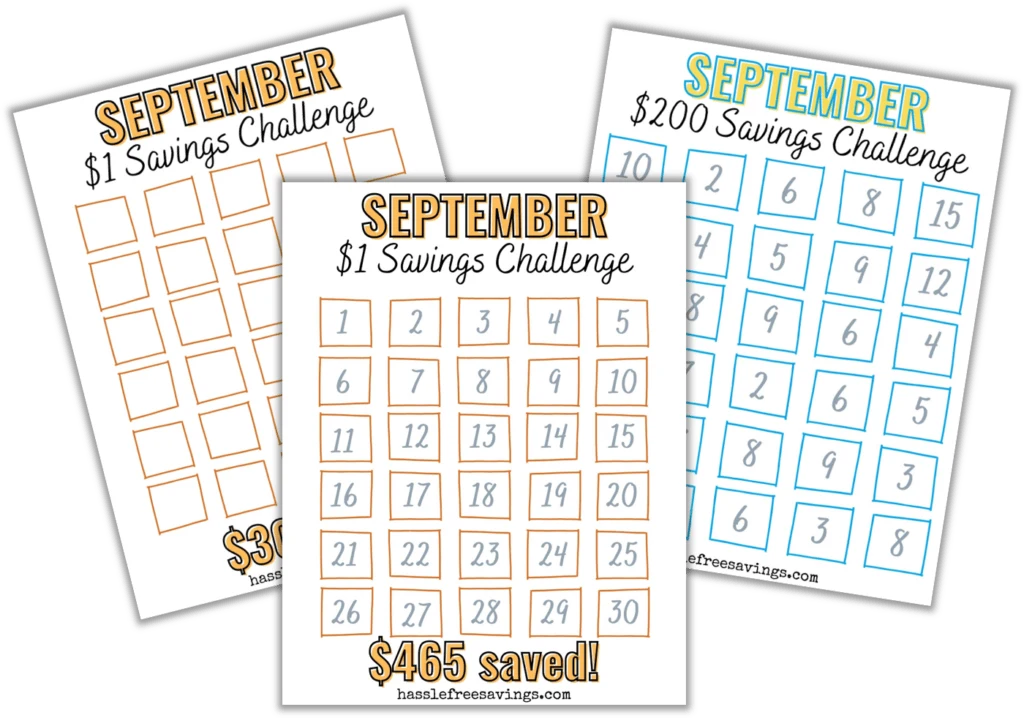 Simple $1 Savings Challenge
First up is the traditional $1 savings challenge. Save just $1 each month and at the end of September you will have $30 saved!
If you are finding things are tight for whatever reason, this can be a perfect way to still feel like you accomplished a goal, but not put a big financial strain on the family.
The $1 savings tracker can also be a great one for kids of any age. Have them come up with a list of ways they can earn $1 per day.
$1 Savings Challenge
Are you looking to really save money this September, this one is a much bigger challenge but, it can be a lot of fun too. In this savings challenge, each day the goal amount increases by $1.
You start at $1 on day 1 and end at $30 on day 30.
For my family, $465 feels pretty unattainable most months so, I choose to look at it another way. How can I save a total of $465, but not necessarily in cash.
For example, calling and getting my cell phone bill reduced by $10 a month, that's a $120 savings right there (based on 1 year). Maybe I resisted the urge to order out and cooked a meal at home, $30 – 40 saved minimum.
There are lots of ways to hit higher goals, use your imagination and see what you come up with!
$200 Savings Challenge
With this September savings challenge, each square has a different, random amount to be saved. This way, you can mix things up without feeling too ridgid.
Personally, I don't like to go in order. I jump around depending on the day. Some months I try to fill in the higher numbers first, other months I try to make patterns.
Remember, the goal with any savings challenge is to make saving fun. Use these trackers as a visual encouragement to see how far you have come for the month, and how far you have left to go to meet your goals!