*This post may have affiliate links, which means I may receive commissions if you choose to purchase through links I provide (at no extra cost to you). As an Amazon Associate I earn from qualifying purchases. Please read my disclaimer for additional details. Thank you for supporting the work I put into this site!
Can you believe it! Just like that 4th Quarter is here! I don't know about you but I am so ready to get through the rest of 2022.
But, enough with that, I know you are here wondering what the October saving challenge printables look like.
This month I decided to go with two different design options. One is Halloween themed and the other is fall themed.
That way, if you just aren't feeling the Halloween spirit, you can still have a pretty tracker to keep you motivated to save this October.
I have several free options available but, if you don't see what you are looking for, be sure to head on over to the shop to check out the rest of the designs.
Fall Money Saving Challenges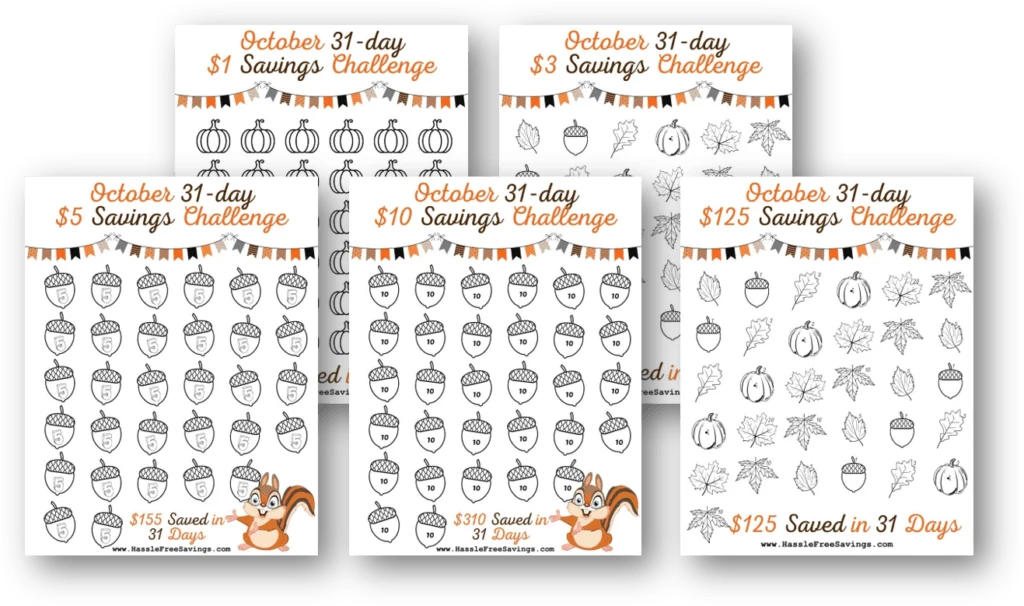 To celebrate fall I have designed these super cute savings trackers for you! There are 5 different tracker options including:
October $1 Savings Challenge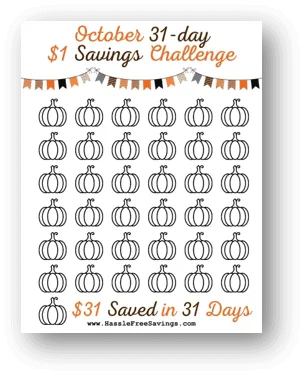 With this dollar savings challenge, color in the pumpkins for each dollar you save up to $31 for the month. This is great as a kids savings challenge or, if your budget is tight.
October $3 Savings Challenge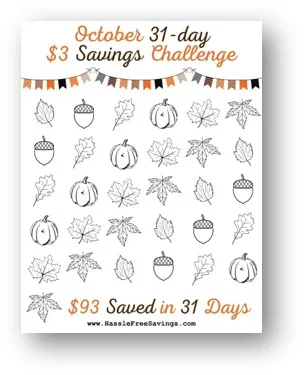 Leaves, acorns and pumpkins oh my! With this $3 savings challenge tracker you can keep track of up to $93 in savings during the month of October!
October $5 Savings Challenge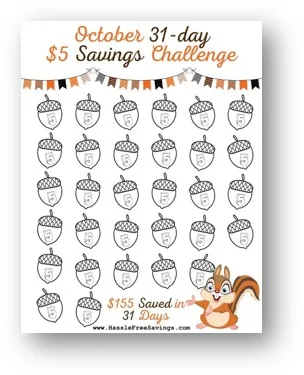 Fall is here and now is as good a time as any to continue your savings journey. Color in these cute acorns to track up to $155 in savings during the month of October.
October $10 Savings Challenge
Looking to pad your savings for fall or maybe just get things in order before the Holiday season starts? This $10 savings challenge tracker will help you keep track of up to $310 in savings during the month of October!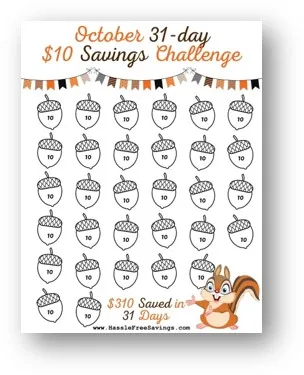 October $125 Savings Challenge
I know there are already lots of great options for saving this month but, I decided we needed one more. Here is a tracker that will help keep you motivated to save up to $125 this month!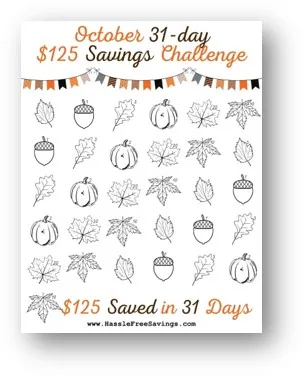 October No-Spend Challenge
If you have read some of my other monthly saving challenge posts you already know that when it comes to no-spend challenges, I prefer a kind of choose your own adventure style.
With this tracker, you can try to do a full 31-days of no-spend OR pick a couple of elements to represent no-spend days. Maybe your family will try for pumpkins and acorns this month?
The goal of a challenge is to be a challenge but also, to be reasonable. If this is your first month doing a no-spend challenge, it's OK to start with a few days, move up to a week, etc.
This is YOUR journey, the choice is yours!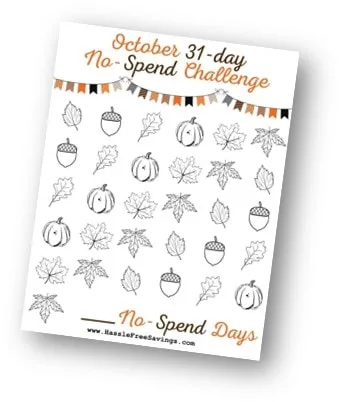 Halloween Savings Challenge Printables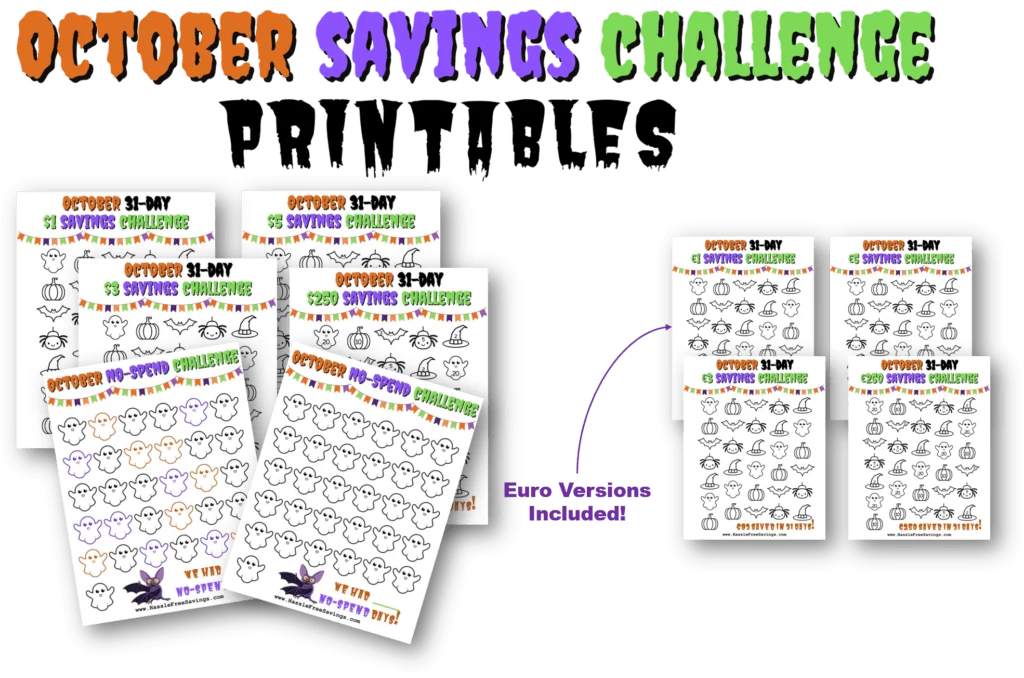 I was having so much fun making printables this month that I decided to make an extra set. This set includes:
$1 Savings Challenge
$3 Savings Challenge
$5 Savings Challenge
$250 Savings Challenge
2 No-Spend Tracker Versions
Euro Versions