*This post may have affiliate links, which means I may receive commissions if you choose to purchase through links I provide (at no extra cost to you). As an Amazon Associate I earn from qualifying purchases. Please read my disclaimer for additional details. Thank you for supporting the work I put into this site!
Your bundle of joy does not have to cost a bundle, but the minute you start showing a bump, becoming budget conscious suddenly bumps into the top of your priorities. Kids are expensive, but they don't have to be as costly as most people make them out to be. Saving for a baby can be easy if you start with a plan.
There are small ways that make a big difference you can include in your budget. If you have no idea where to start, these five tips will help you save money before you have your baby.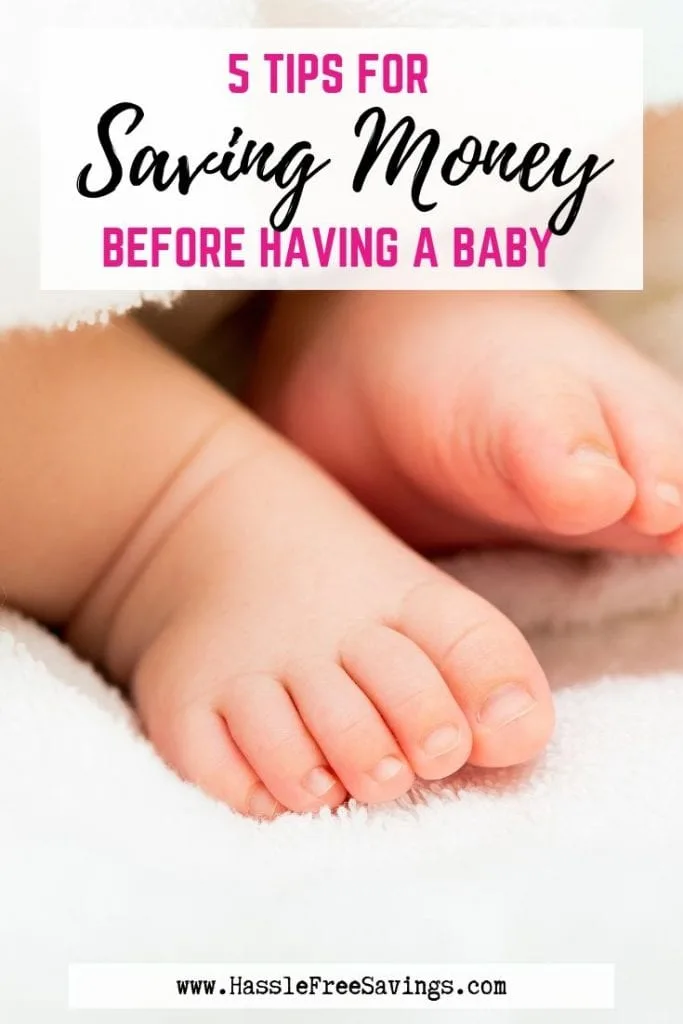 1. Take A Close Look At Your Finances
Now is the time to be honest with yourself about your finances. You are soon going to add another little life to your family and things aren't going to get cheaper!
Where are you at financially? Are you able to cover your bills each month? Have you been paying off debt or racking it up? There won't be any judgment from me either way but now is the time to kick your finances into high gear.
Your first step is to evaluate where you are now, and where you will be once the baby arrives. How will maternity leave affect you? Who will watch the baby? How much time off will you get? If you have paid family leave, how much does it pay?
The answers to these questions will help you formulate a financial plan.
2. Figure Out How Much Labor & Delivery Will Cost
Depending on your insurance plan, labor and delivery can be a big expense. Knowing what to expect ahead of time allows you to work that amount into your budget.
Insurance plays a big factor in cost. My insurance plan has a Treatment Cost calculator I can use online to calculate this kind of thing. This is helpful because it shows me my copay amount as well as what the out of pocket amount would be. Here is the breakdown:
Keep in mind these are estimated numbers generated based on my health networks estimated costs and my specific health plan. Your health plan co-pays and out of pocket costs will be different. (Source)
2019 Cost for Prenatal Maternity Care
Transvaginal Ultrasound with Insurance: $55
Transvaginal Ultrasound without Insurance: $238
Abdominal Ultrasound with Insurance: $55
Abdominal Ultrasound without Insurance: $350
Pregnancy Lab Test, Urine with Insurance: $16
Pregnancy Lab Test, Urine without Insurance: $16
Alpha-fetoprotein Lab Test with Insurance: $35
Alpha-fetoprotein Lab Test without Insurance: $39
Amniocentesis with Insurance: $25
Amniocentesis without Insurance: $325
HCG Blood or Urine Test with Insurance: $35
HCG Blood or Urine Test without Insurance: $146
Nuchal Translucency Test with Insurance: $55
Nuchal Translucency Test without Insurance: $396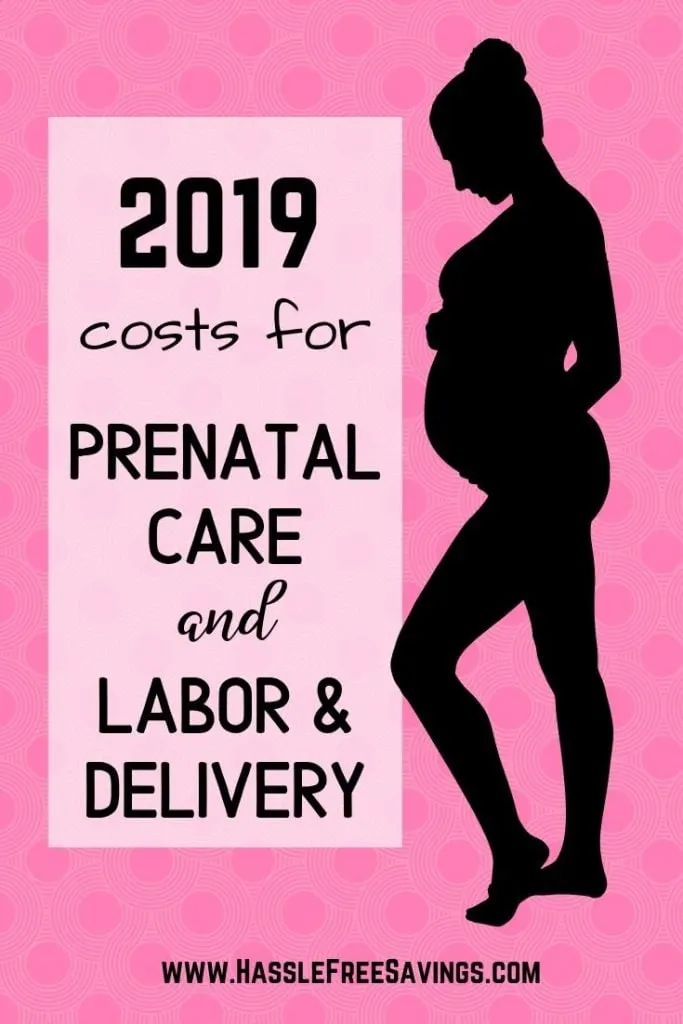 2019 Delivery Costs
2019 Cost for Vaginal Delivery with Insurance: $8,969.00
2019 Cost for Vaginal Delivery without Insurance: $600.00
2019 Cost for C-Section Delivery with Insurance: $600.00
2019 Cost for C-Section Delivery without Insurance: $18, 550.00
2019 Cost for Premature Baby (born before 37 weeks) with Insurance: $600
2019 Cost for Premature Baby (born before 37 weeks) without Insurance: $53,929
Here is how their breakdowns look for me when I pull the numbers.

I recommend you make a list of all the questions you have related to your plan and your pregnancy and then call your plan administrator and get pricing. It is good to know ahead of time. Here are some questions you may want to ask:
Questions About Costs During Pregnancy
How much are prenatal office visits?
How much are ultrasounds?
How much is bloodwork / urinalysis (I swear they have you pee on a stick every time you go in).
Questions About Costs During Labor & Delivery
How much is labor and delivery for a standard birth?
How much is labor and delivery if I need a C-Section?
Is there any extra charge for an epidural?
Keep in mind that if you are delivering your baby without insurance these costs can be very high. It goes without saying that you should look into insurance before you get pregnant but I realize not all pregnancies are planned either. If that is the case, seek out insurance companies that will take you AND cover the pregnancy. Alternatively, look into government-based programs.
If you for sure won't have insurance at time of delivery, shop hospitals and find out what pricing / payment plans they offer for new moms paying cash out of pocket. Babies are expensive so it makes sense to collect as much information as possible.
3. Saving For A Baby
Will you be going from two incomes to one when the baby arrives? Try cutting costs incrementally before your due date. Whether mom (or dad) is going to stay home with baby full time or both parents are eventually going to go back to work, knowing what the income deficit is will help you start to prepare early on.
If you will be taking maternity leave, some states offer paid family leave where you will still receive a portion of your salary. In California, that number is 60 – 70% of your normal income (from $50 up to $1,252 weekly). This leave is available for moms and dads too (source).
If you are using a zero based budget now and baby is due in six months, try adding 5% of your budget each month to your savings. This will simulate reduced pay so you can get the hang of it and give you extra cushion when unexpected things happen. If your baby is due in six months, this might look like:
Month 1 – Move 5% of Total Income Into Savings
Month 2 – Move 10% of Total Income Into Savings
Month 3 – Move 15% of Total Income Into Savings
Month 4 – Move 20% of Total Income Into Savings
Month 5 – Move 25% of Total Income Into Savings
Month 6 – Baby is here…you already know how to live on less!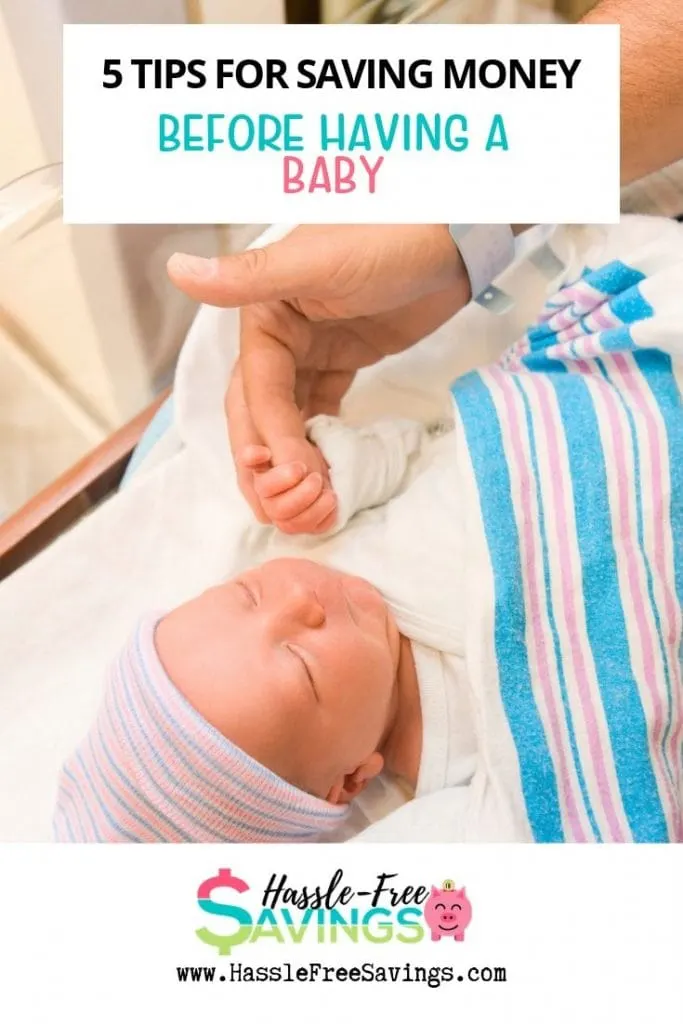 4. Adjust Your Numbers
Look at all of your income and expenses and see what can be adjusted or reduced to cut costs or increase income. Can you cut back or eliminate cable? Will your baby be born this calendar year? If so, consider adjusting your withholdings now.
Can you cut WiFi? Reduce your grocery expenses? Increase savings?
If you don't have a budget, now is the time to start your first budget (I show you how here). Sit down with your partner and figure out your financial goals for now and after the baby arrives.
5. Continue To Save Once The Baby Arrives
Limit Your Online Shopping
It's easy, isn't it? Sit in your sketchy pants, read a few reviews, make a decision, check out and wait for delivery. But online shopping is not entirely cheaper. For instance, subscribing to a lot of mailing list hoping to bank a discount is a smart move, but the majority will require you to meet minimums. You either end up spending more than you intended or with items you don't really need.
Be Smart when Buying Diapers
Diapers are an expense you will have for the next couple of years. Having a game plan on how to get deals is crucial. As a rule, never buy diapers at full price. Instead, compare prices in three stores and check the brand's website for coupons. Also, don't stick to one brand. Find a few that work fine and buy the one on offer when you need to refill.
Whenever you can, but diapers in bulk and start shopping for coupons and discounts before you run out. You can use this tip for other baby supplies such as oil, shampoo and powder.
Diapers Size 1/Newborn, 252 Count
Up to 100% leakproof nights and happy mornings with LockAway Channels
Helps prevent blowouts with stretchy sides and large tape fasteners for a secure and comfortable fit
Some retailers, like Amazon.com, offer diaper subscriptions where you diapers arrive automatically and you pay a reduced price for the convenience. Just be sure the frequency is such that you don't have too many diapers at once.
Ask for Samples When You Visit the Pediatrician
If you are planning to bottle feed, formula probably has you in major financial shock. To give you a head start, leave the hospital with as much formula as the nurse is willing to give you. Most healthcare facilities won't ask you if you need some so, be prepared to ask.
Don't be afraid to ask for freebies from your pediatrician as well. You can walk away with loads of stuff from formula to eczema cream.
Buy Convertible Gear
You must have heard this a lot of times, but we will repeat it once more because convertible gear is a huge money saver.
Buy a crib that converts into a toddler bed, a stroller that can be turned into a car seat and a baby walker that can convert into a baby rocker. Besides saving you huge cash, convertible items save you a lot of space making them more manageable.
When shopping in your local store, ask the salesperson to shows you the best two-in-one and three-in-one options.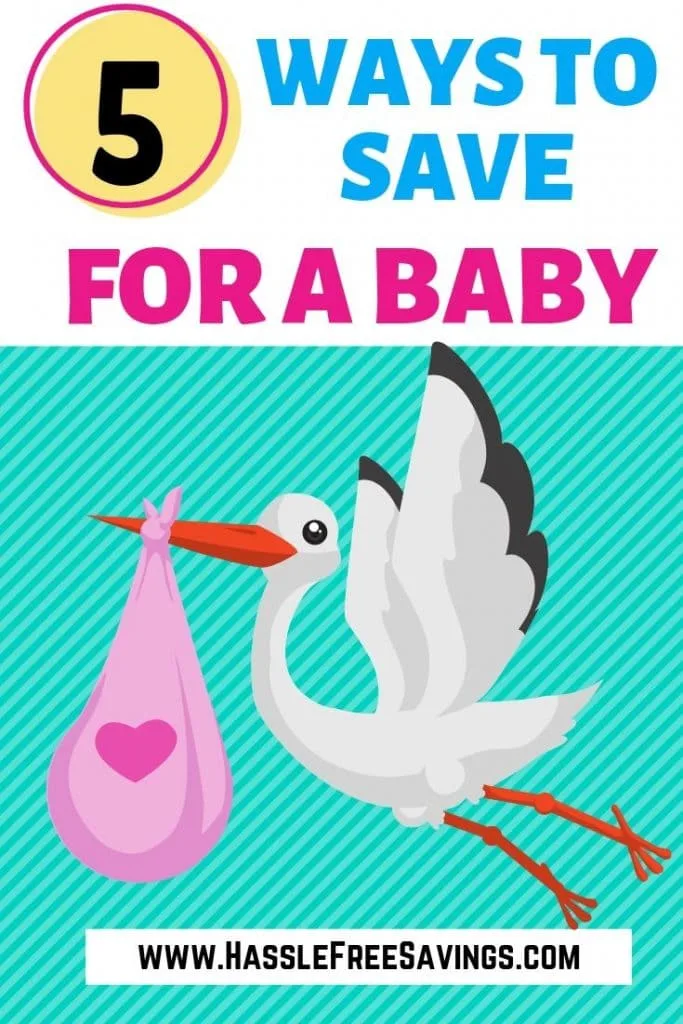 Save On Clothing
You will not get the luxury to compromise on items that contribute to your little one's health, but clothes are the exception. I know the feeling of wanting to buy all the cutest outfits for your new baby.
The reality is, your newborn is probably going to spend most of his/her time in onesies or pajama type outfits. During your baby shower, you are likely to get onesies and other items that can last you for up to 6 months.
You don't need to add more items unless there is something essential you did not get. After that, swap out stuff your older child outgrew, or get some things from the Freecycle Network. Believe it or not, this will save you hundreds of dollars on clothes budget.
Final Thoughts
Saving money before your baby arrives is crucial. Prenatal care and labor and delivery, reduced income and extra expenses are all things you can try to plan for before baby arrives. Babies start as little bundles of joys, but they will be entirely dependent on you until they are old enough. Having some savings is definitely a smart move.
Kudos to you for taking the time to put some thought into how this baby will affect you financially. Remember though, don't stress out too much. As a parent, your job is to make it work no matter your situation. It takes work, but you'll get there!
RELATED POST