*This post may have affiliate links, which means I may receive commissions if you choose to purchase through links I provide (at no extra cost to you). As an Amazon Associate I earn from qualifying purchases. Please read my disclaimer for additional details. Thank you for supporting the work I put into this site!
April showers bring May flowers? I think many of us are hoping that May is a brighter and more productive month than April was! May also brings us Memorial Day and to remember members of the military who have died protecting our country. As such, most of these May savings challenges have reminders to remember those who served.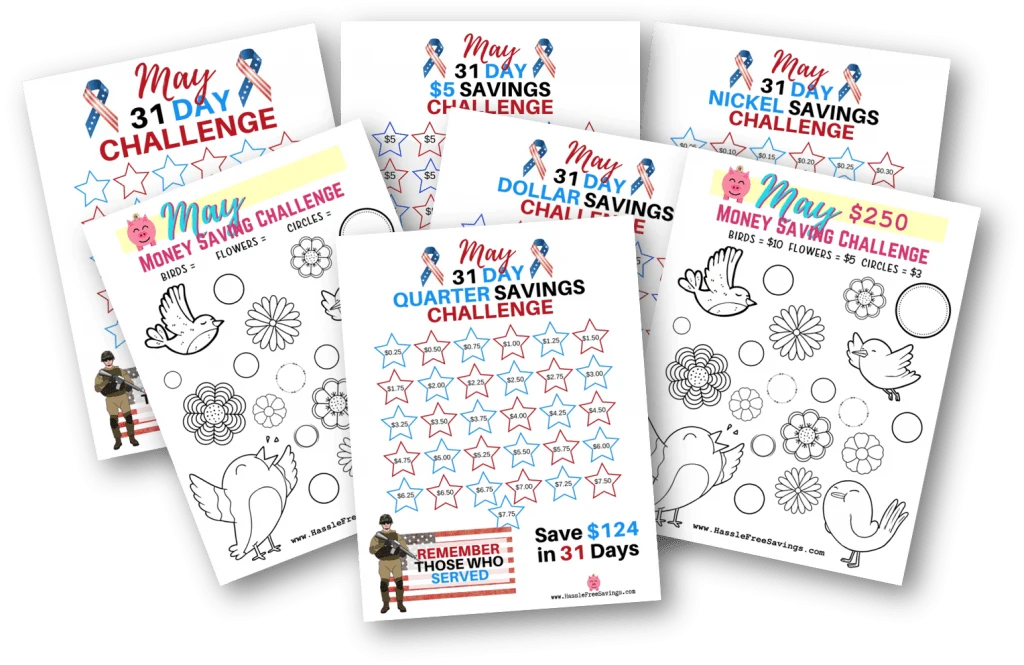 Financially, things are tough for many people around the world. Those of us who are able to save money each month should remember that no matter how fortunate we are, if we are able to put money aside right now we should consider ourselves to be very fortunate.
This months money-saving challenges have a few different options, let's have a look at what they are!
31-Day Nickel Savings Challenge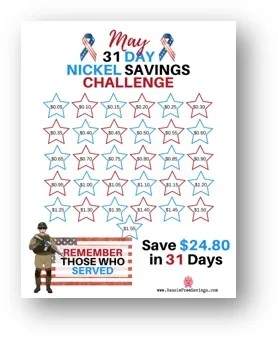 Let's get the May printables started off with a nickel savings challenge. This month I want to make sure to have lots of options for savings challenges for you guys.
This nickel savings challenge is pretty yet simple. Save a nickel the first day, two nickels the second day and so on. If you have spare change around the house it's easy enough to collect nickels in a jar.
If not you could do a transfer each paycheck right into your savings. It's completely up to you!
31-Day Quarter Savings Challenge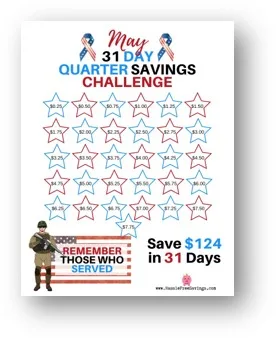 For those of you that like the 52-week challenges, you'll probably love this 31-Day quarter challenge. In this challenge, day 1 starts with 1 quarter. Each day you add another quarter. So two quarters on day 2, 3 quarters on day 3, etc.
At the end of 31 days, if you have filled in all the stars, you will have saved $124.00 in 31 days. But, the fun thing here is there are no dates! Feel free to mix things up!!
31-Day Dollar Savings Challenge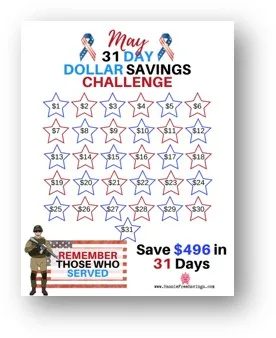 May has 31 days. In this challenge, you save $1 more each day than you did the previous. At the end of the month, if you color in all the stars, you'll have saved $496 in 31 days!
As you may realize by now, I don't like to be confined by dates, so feel free to mix things up too. Maybe go backwards, or save the red stars first, and then the blue ones.
31-Day $5 Savings Challenge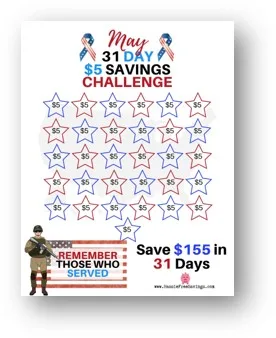 Sometimes it's easier to save when it is the same amount. For this savings challenge printable, you'll save $5 per day.
After 31 days you'll have saved $155 total! What will you save for?
31 Day Challenge Printable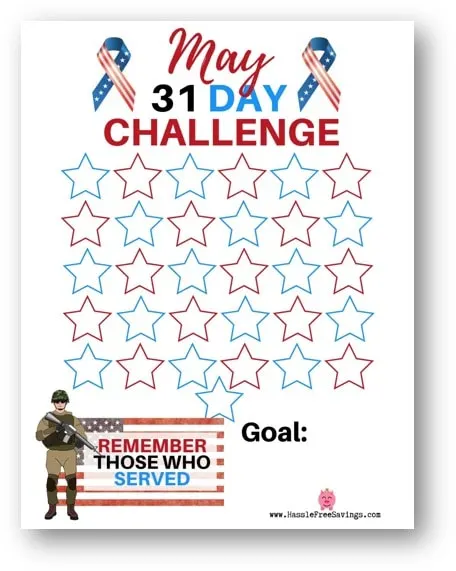 This next free 31-day challenge printable is a standard 31-day challenge. This can be anything you want it to be. Some ideas include:
No Spend Challenge
No Takeout Challenge
Clean 15 min Every Day Challenge
Call a Family Member on the Phone Challenge
The idea is to think of something you would really like to do and then challenge yourself to commit!
Making It Work
Each of these savings challenges are designed to be fun and challenging. But, what if you know that you won't be able to save that much this month but still want to put something away?
Think about how you can make it work for you. A way to be challenging yet still doable. My suggestion: pick a color and run with it!
What do I mean by that? Each of the three worksheets above have red stars and blue stars. If you know saving the total amount isn't doable this month, try just picking red or blue and save that amount instead!
Small progress towards even a big goal is better than no progress towards a small goal!
In fact, you could make any of these a partner challenge. Have your significant other pick a color, you take the other color and you can each work together to hit the common goal. The key is to make it fun!
Floral Monthly Challenges
For those of you that live outside of America, or are just looking for something different, I also have two floral challenges for you to choose from this month.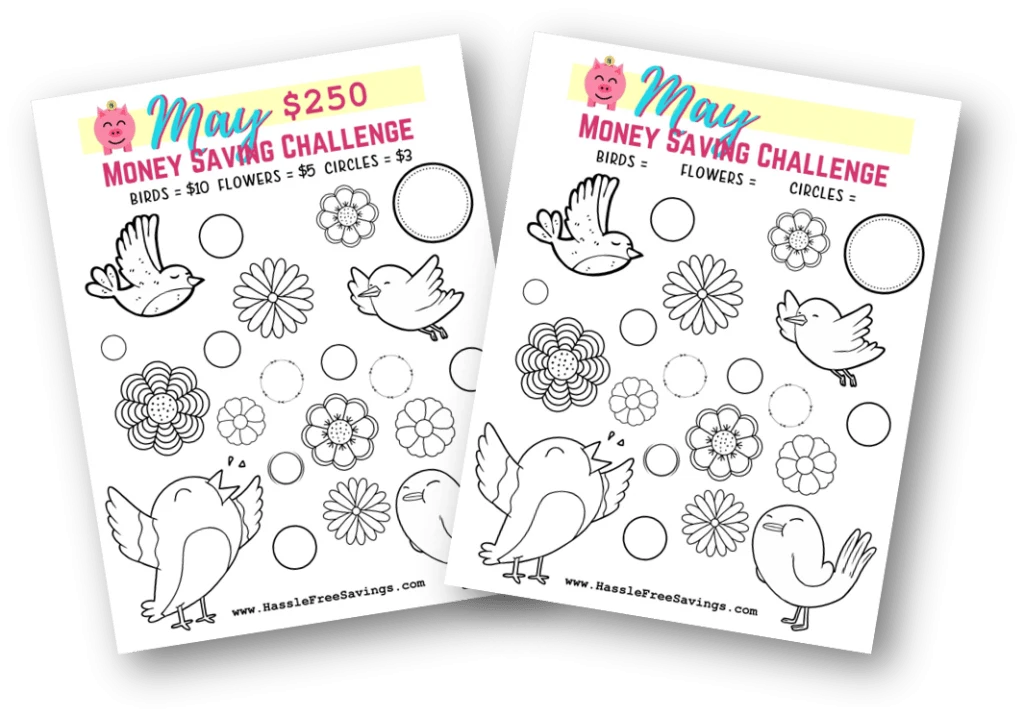 This free savings challenge printable will help you save money. There are two options available. One is filled in with the values you need to reach $250 saved in one month (don't worry, Euros are available too).
The second option is a blank chart where you can decide how much each element is worth. To help you figure it out here is the breakdown:
20 Total Elements to color
3 Birds
7 Flowers
10 Circles