*This post may have affiliate links, which means I may receive commissions if you choose to purchase through links I provide (at no extra cost to you). As an Amazon Associate I earn from qualifying purchases. Please read my disclaimer for additional details. Thank you for supporting the work I put into this site!
Another month is about to start. This year, we all have to admit things are a little different than normal. But, that's OK we'll get through it. For the month of April I have 4 different money-saving challenges you can choose from. Well, option four is more like a 30-day challenge for anything really.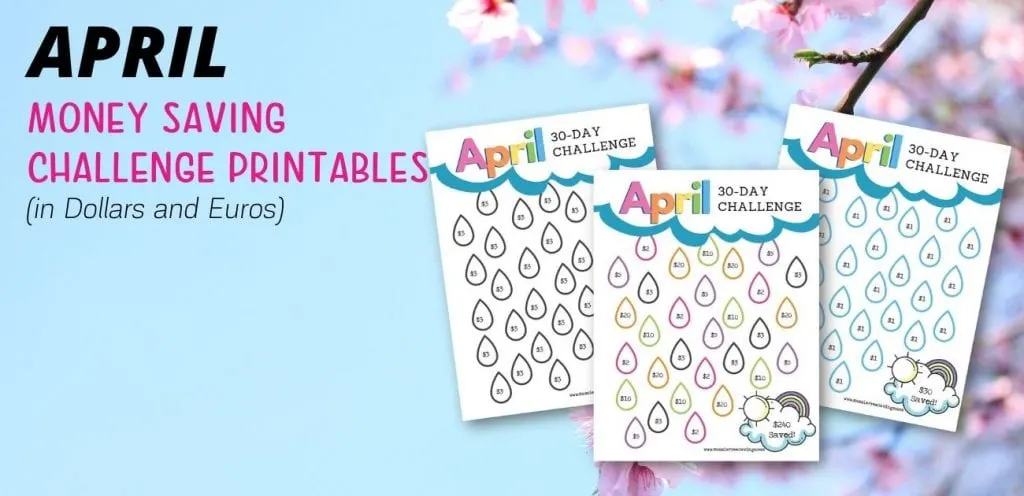 This month you can choose from:
$1 Savings Challenge = $30 Saved
$3 Savings Challenge = $90 Saved
Savings Challenge Medley = $240 Total Saved
April 30-Day Challenge Printable
This month has so many options to consider for a 30-day challenge. A pantry challenge makes sense (I'm working on a big post about that!).
There is a great opportunity to get creative here too. One thing I realized is, I've never made bread from scratch. I have a whole jar of flour and don't really use it for, well, anything.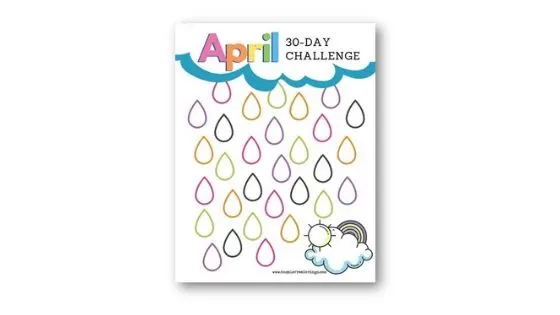 My 30-day challenge for April is to bake or cook something from scratch using flour. I have yeast, flour, baking soda, eggs, etc.
I'm looking forward to trying bread, popovers, pasta and even desserts!
If you remember, last month I covered some ideas on how you could color in a blank challenge worksheet. This month's worksheet has a rainbow of colors. Each color could be used for one different goal. There are six total raindrops for each of five colors.
You could do something like:
Pink

= Board Game Played

Green

= 30 minutes of outdoor family time.

Purple

= Family Movie Night

Orange

= Family Art Project
Black = Random Act Of Kindness
April Money Saving Challenges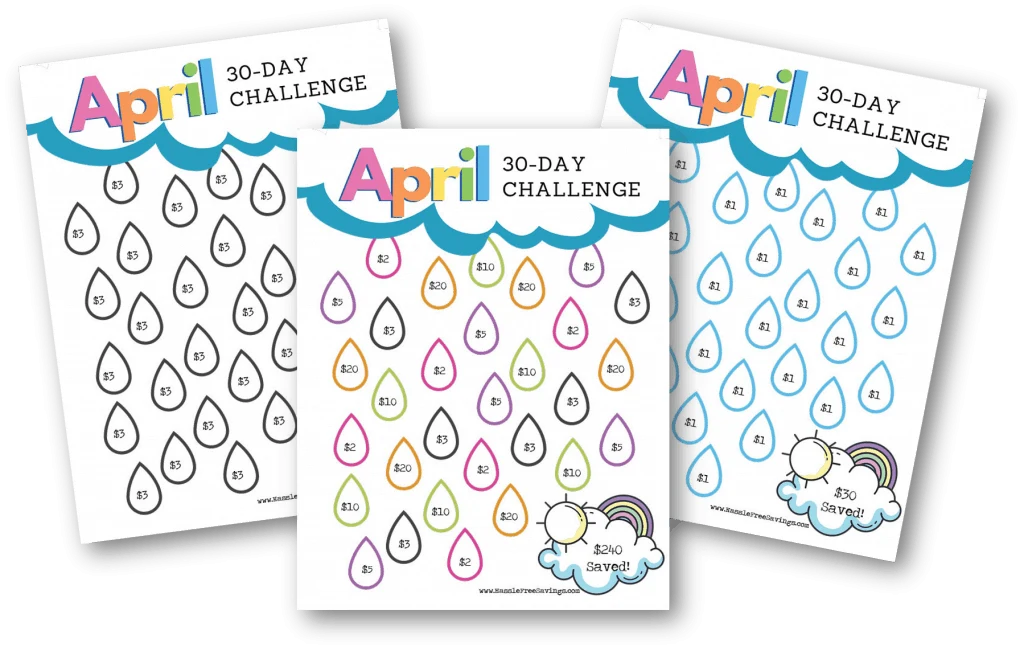 Save $30 in 30 Days
This challenge is great for when times are really tough OR for kids who are learning to save instead of spend.
Sometimes, our circumstances make it so that it is difficult to save. While the 30-day challenges above can be done for free, consider a $1 savings challenge when your budget is tight but you still want to put something into savings.
$3 Savings Challenge
In this challenge, we ramp things up a little bit to save $3 per day. That's less than the cost of a coffee at most places!
At the end of 30-days you will have saved $90!
April Savings Challenge Medley
These mix it up, medley style challenges are my favorite. They let you mix things up a bit.
This month you can track $240 worth of savings using this free printable savings tracker!
How to Do A Savings Challenge
One thing to keep in mind, especially in today's climate, is that how you complete a savings challenge is completely up to you. There is no one right way to do things.
Maybe you are saving money by cooking at home. Great, color in what you would have spent but didn't.
Maybe you called your cable provider and actively got a reduction on your bill. That counts too!
The savings challenge goals don't have to be actual dollars in your pocket that you put into your savings account.
Help A Girl Out
Hey you, yes you! Do a girl a favor. If you like these challenges use the social buttons above to share them with your friends. Pop a pin on Pinterest or share the post to Facebook.
I love sharing cool stuff with you, I'd love if you shared with your friends!