*This post may have affiliate links, which means I may receive commissions if you choose to purchase through links I provide (at no extra cost to you). As an Amazon Associate I earn from qualifying purchases. Please read my disclaimer for additional details. Thank you for supporting the work I put into this site!
It sometimes seems like the more we look at our budgets and try to figure out where to save the more it seems impossible to do anything on a budget. Grocery shopping is one of my worst monthly budget categories.
I use Jordan Paige's guideline and budget $300 per month for my daughter and I. Keep in mind that budget includes all toiletries, paper towels, garbage bags and food for the month. There is only two of us and staying within budget is still a constant struggle.
One of the best ways I have found to stay in budget is to know round about how much each meal costs. That way, if I want to have salmon night, I can plan for it. If I want to have steak, I can plan for that. Most nights, though, it's going to be budget meals.

These are some of my favorite cheap and easy meals. They all serve at least 4 which is great for me because I know I'll have leftovers for lunch or for dinner the next night. They are all also $5 or under TOTAL (not per serving).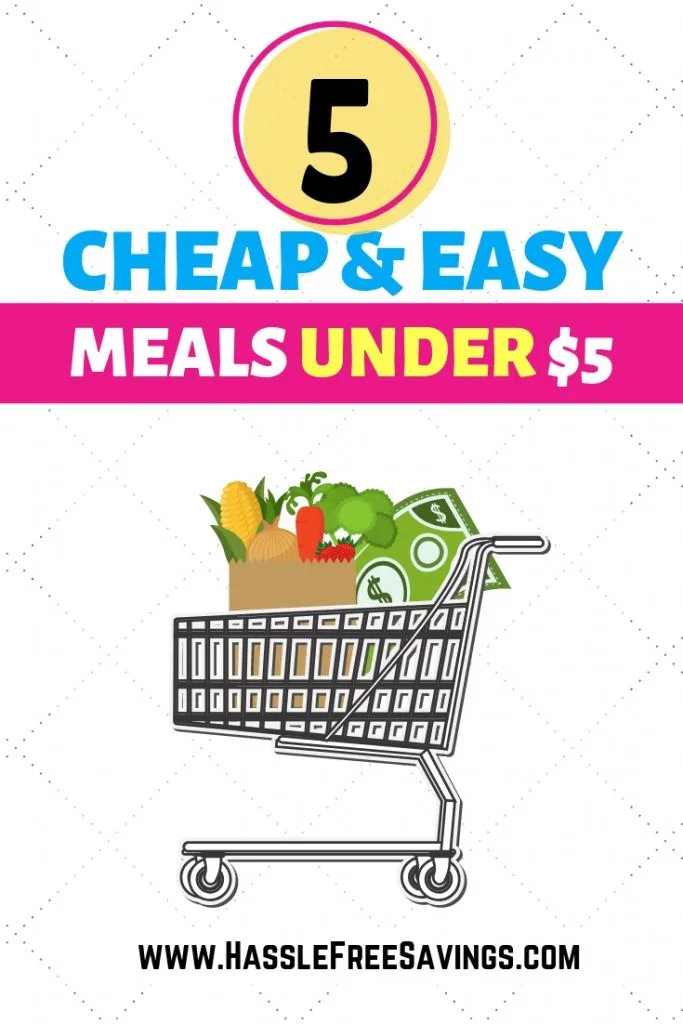 Getting Started
Before I can get started with any recipe, I have to make sure whatever I am buying is on sale for the week. I only buy meat on sale and my whole dinner plan for the week usually revolves around that.

Well, that and any freezer meat I have from a previous sale. Whenever your budget allows, buy a little extra meat during a good sale and you'll have it ready to go in a pinch!

Most meals are only going to have one meat and one side. I know I can throw in some iceberg and make a quick salad to add bulk to most things if need be.

What's On Sale This Week?
This week I'm using the a flyer from Vallarta supermarkets to get rough pricing for you. At this store the following items are on sale:
Boneless Skinless Chicken Breast is $1.79 per lb.
Sweet White Corn is 3 for $1
Pork Sirloin End Chops are $0.99 / lb.
Iceberg Lettuce is 2 for $1
Pagasa Pasta is 5 for $1
Pork Cushion Meat is $1.69 / lb
Evengood Sausuage – $3.99 / pckg
Springfield Pasta – 0.99
Tilapia Filet – $2.99/lb
Plus I had some stuff at home from Smart & Final
Hunts Pasta Sauce – 0.89 / can
Italian Squash – $1.38
Russet Potato – $3.99 for 10 lbs
Ground Turkey – 3 lbs – $5.37
Shredded Cheese – 8 oz for $2.50
So, what's for dinner?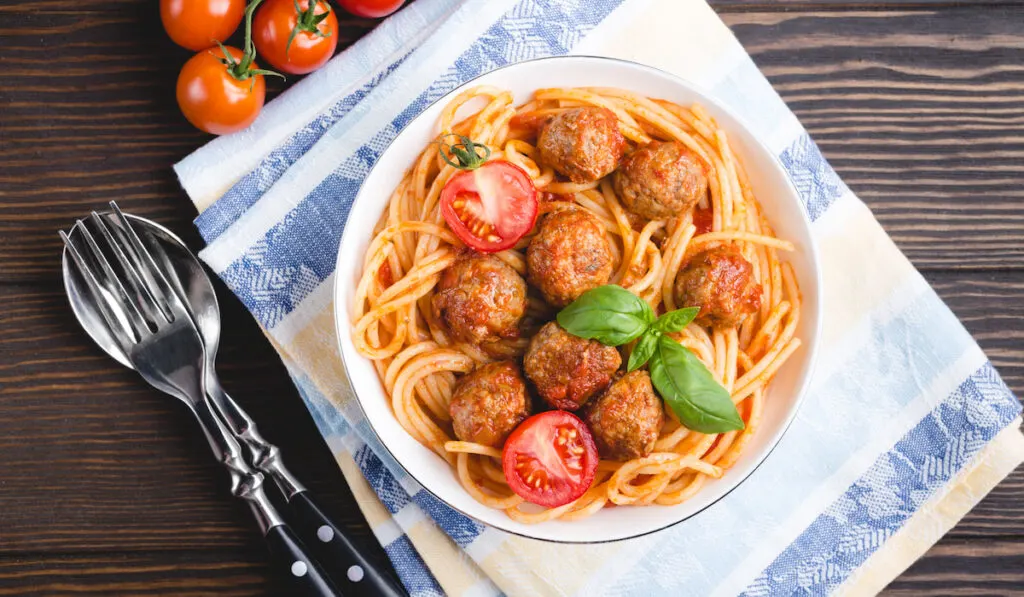 Spaghetti and Meat Sauce
One look at the ingredients above and this one is a no-brainer. It's also a household favorite and a pretty cheap dinner meal.

Shopping List
1-lb Spaghetti – $0.99
1 can meat sauce – $0.89
.75 lb Ground Turkey – $1.34
Total = $3.22

There is even room in there to add more pasta, meat or maybe a wedge salad and still be under $5 for the meal!

Recipe:
Bring a pot of water to boil and add entire pound of spaghetti. Cook for 7-10 min or according to taste.
While spaghetti cooks, add ground turkey to pan and brown thoroughly.
Drain turkey.
Drain Spaghetti.
Pour in entire can of sauce into spaghetti pot and cook on medium until sauce starts to bubble.
Add in meat and spaghetti.
Stir thoroughly till dish is well mixed and heated through.
I personally like to cook my spaghetti sauce in the pot I boiled the spaghetti in. I hate when sauce spatters and the high walls prevent sauce from getting everywhere. In addition, I always mix my sauce, meat and pasta together. I find it's easier for the kids to serve themselves, easier to pack up and put away as well.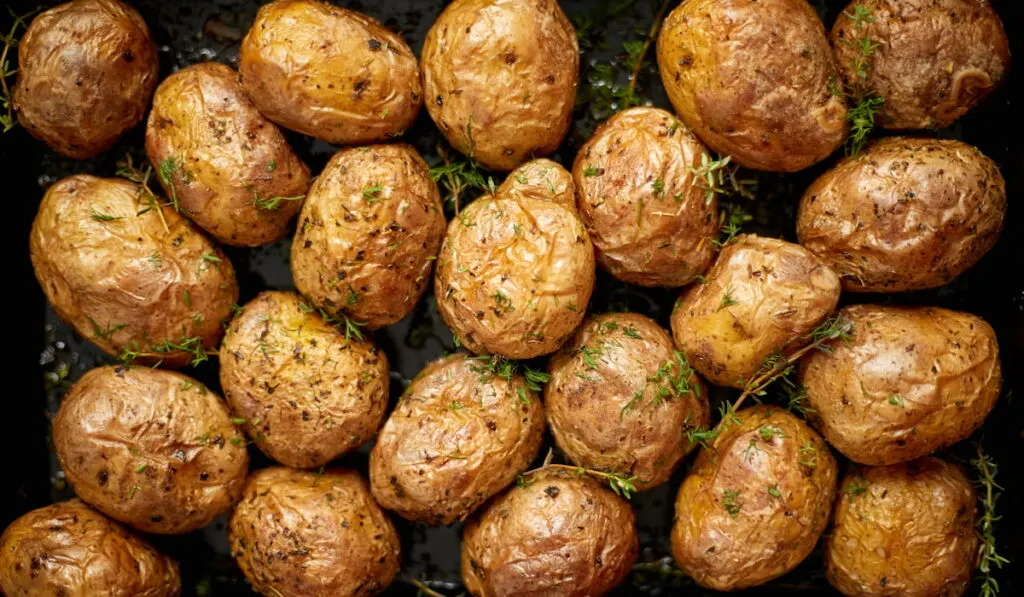 Pork Chops and Roasted Potato
Shopping List
4 Pork End Chops (0.5 lb each) – $1.98
4 – 5 Potato, Chopped and tossed with olive oil and garlic salt. ~ 2.5 lbs – $1.00
Total = $2.98

Recipe:
Line baking sheet with aluminum foil.
Season pork chops with salt, pepper and a little bit of vegetable oil and add to pan.
Bake at 325 till done. Internal temperature should be around 145 F.
Chop potatoes (I usually cut them in half long ways then into thirds).
Coat with mixture of olive oil and garlic salt. Add pepper to taste.
Spread even layer on pan and cook with pork chops.
Both are usually done around the same time.
Forgive my directions. You see…I'm not a chef. I only learned how to cook when I became single. When in doubt, Google it. It's yummy and there are many ways to do it.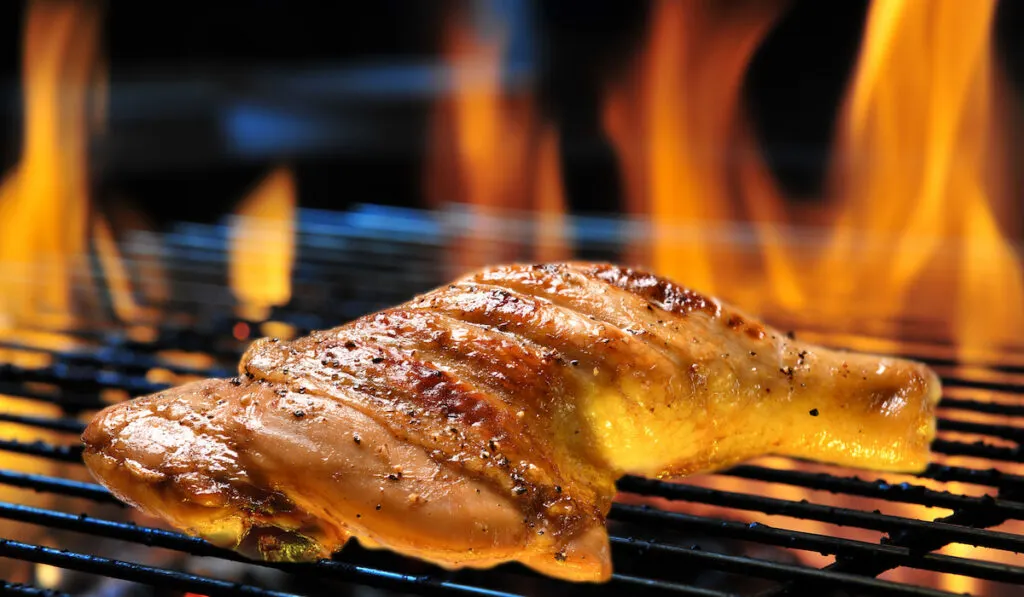 Grilled Chicken with Corn & Baked Potato
Shopping List
3 Boneless Skinless Chicken Breasts (~1 lb) – $1.79
2 Whole Corns (cut in Half) – $0.66
Baked Potato (x4) – $1.00
Total = $3.45

Recipe:

This one is pretty simple. You can either grill or bake any of the ingredients. For cooking them on the grill:
Pre-heat grill.
Wrap potato and corn in aluminum foil. I prefer the corn to have a thin layer of husk on it to retain moisture.
Place items on grill and cover.
The corn and potato typically need about 40 min so while they are cooking season the chicken meat. Add to grill and cook thoroughly.
Note: I typically use chicken leg quarters or leg meat for grilling I just didn't have the pricing for it. Breast works fine too but to ensure even cooking you may want to even out the thickness with a mallet before grilling.

This recipe is SUPER yummy! I'll cut the two corns in half and serve one half with the meal and one the next day. If your family loves corn, consider 1 corn a piece for them!

This reheats well too just remember you can't microwave aluminum foil!
Tilapia with Mashed Potato & Canned Corn
Shopping List
4 Tilapia Fillets ~1.3 lb – $3.88
Canned Corn – 0.50
White Rice – 0.5 lb – $0.30
Total = $4.68

Recipe:
Cook white rice according to package directions.
Once rice has soaked up all the water, drain corn and stir into rice.
Continue cooking rice until done.
Season Tilapia Fillets with Garlic Salt.
Add olive oil to pan and cook Tilapia over medium heat. Typically 4 minutes per side.
Remove fish and serve with rice and corn mixture.
If you haven't tried rice with corn you don't know what you are missing. My ex's mom used to make white rice with veggies all the time and it is absolutely delicious! I found this Rice with Corn recipe that has a lot more detail if you need it.
Taco Salad
Shopping List
1 lb Ground Turkey – $1.79
1 Head Iceberg Lettuce – $.50
Shredded Cheese – $1.00
Fresh Corn – $0.33
Rinsed Canned Black Beans – $0.79
Sour Cream – $1.00
Total = $5.41
(If you really need to stay on budget here you could use Ranch dressing instead of sour cream or eliminate cheese)

Recipe:
Shred lettuce into manageable pieces.
Cook turkey over medium heat until browned. Drain. Add taco seasoning and water and cook according to directions (usually 1 – 2 minutes).
Open black beans and rinse thoroughly. Drain.
Use a knife to remove corn from ear. (Alternatively, use drained canned corn).
Assemble salad or let the family DIY it. We prefer sour cream for dressing on this taco salad but Ranch tastes delicious too!
To Pack for Lunch: I typically pack all the veggies together and then have the meat in a sandwich bag. At work, I'll heat up the meat and then add to the salad. Leftover meat can also be used to make tacos if you have tortillas on hand. Leftover salad mixins are great for regular salads.
Eating on a Budget
It sucks to be broke, I know I have been there. Even though I'm doing OK financially now, I still realize the importance of eating on a budget. While the above list isn't comprehensive, you would be looking at about $20.00 for dinner for a family of four for 5 days.

For my daughter and I, this translates to round about 8 meals. Usually she will snack on last night's dinner when she gets home, usually I'll take mine to lunch for work. Sometimes we'll both just eat leftovers for dinner the following night.

In order to stay on budget, it's imperative we utilize all leftovers. We really work hard to not throw anything out.

Keep in mind that the meals above aren't meant to be fancy. They are just traditional dinners that are easy and cheap to make at home.
What is your favorite budget dinner to make at home? Let me know in the comments below!

RELATED POST