*This post may have affiliate links, which means I may receive commissions if you choose to purchase through links I provide (at no extra cost to you). As an Amazon Associate I earn from qualifying purchases. Please read my disclaimer for additional details. Thank you for supporting the work I put into this site!
If you are looking for ways to control spending, you need an excellent support tool to help keep you on track. There are a variety of budgeting tools available on the market, and new ones are popping up every day.
To help my readers find the tool that will work best for them, I've compiled a list of the 7 best budgeting tools for 2021.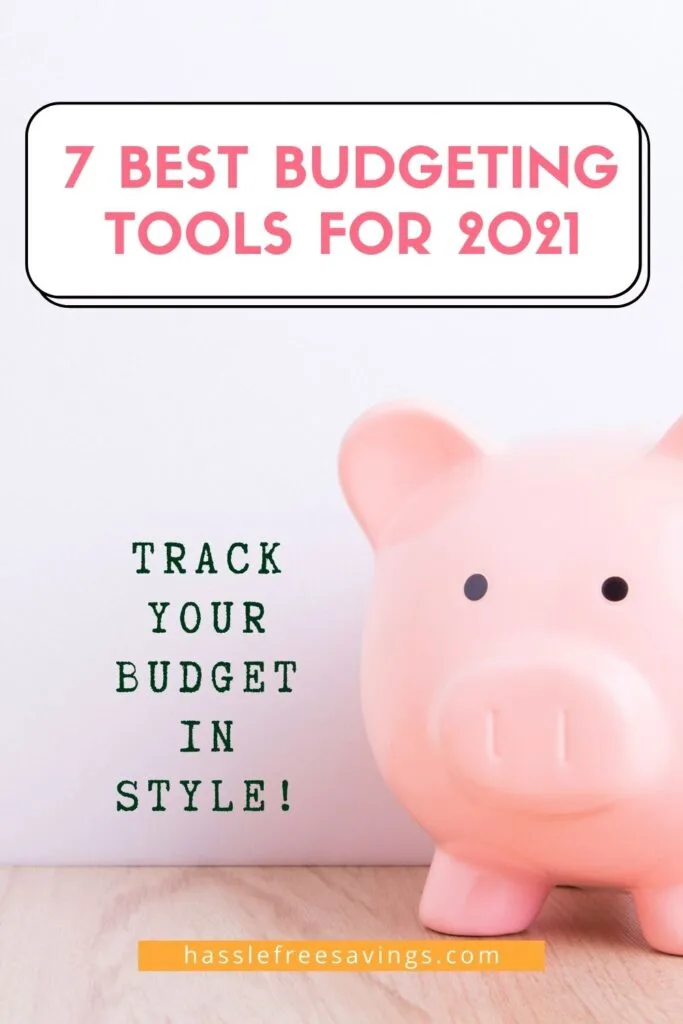 1. Mint
Mint is one of the oldest kids on the block among the budgeting tools. It offers a broad and useful array of features to control and manage money movement from multiple banks, credit card companies, brokerage accounts, creditors and many other types of financial entities.
It does a good job, that's to be expected considering it comes from Intuit. They are well known for their accounting software, QuickBooks, so it makes sense that Mint is packed full of useful features.
Though Mint comes with a wide range of features, the most useful one are the budgeting tools. The app is designed to categorize the transactions from your linked accounts automatically.
Cards and update the same in the budget on a real-time basis. The app allows you to change the categories, limits, etc. as per your customized needs. If you are close to surpassing budget in any type, the app will alert you in advance. The tool also has effective report generation options to analyze your cash flow over a period and track your performance from different angles.
Mint also offers a free credit score each month which is great if you are trying to build or rebuild your credit. Although I don't use Mint regularly, I maintain a Mint account because of this feature as well as being able to quickly see my spending and income in a graph.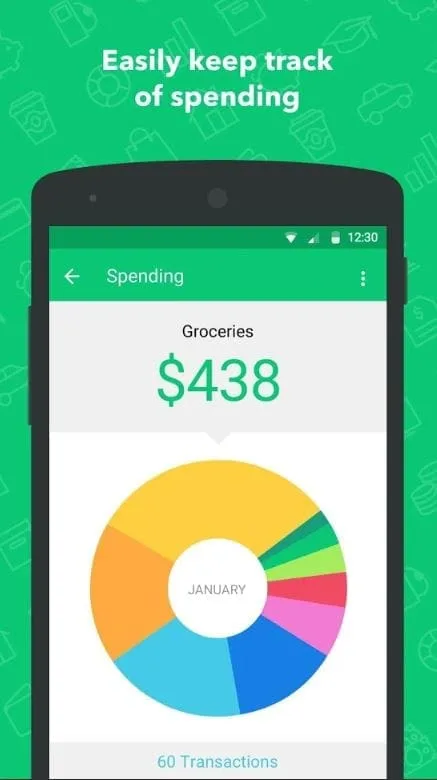 These images are not screenshots, they are from the play store since Mint doesn't allow screenshots…which I think is a great feature!
Pros
Fingerprint Enabled – I came back and added this after realizing how poorly PocketGuard handled this.
Main Screen Layout – Gives you all the basics in the overview screen, recent transactions, account balances, upcoming bills, credit score, budget, cash flow etc.
Custom Categories – You can setup custom categories. I find this is easier to do on the desktop than the app.
Does not allow you to screenshot the app – I think this is great for security! I found this out when trying to get screenshots to include in this article!
Cons
Main Screen Ads – Advertising on the main screen is large.
Some Features Difficult on Mobile – I couldn't find, for example, where you add categories on the app but I know it can be done on the desktop version.
Miscategorized Transactions – You really have to pay attention, especially at first, to ensure that your transactions are being categorized correctly. I had to do a double take at my monthly Restaurant numbers until a closer look revealed there were several non-restaurant transactions that were miscategorized.
Overall Opinion: The app is the one I use because it is the only one that I can both connect to all of my bank accounts and automatically import transactions for categorization. It still leaves something to be desired but, for me, it is the best one out of the 7 I reviewed.
2. PocketGuard
True to its name PocketGuard is designed to protect you from overspending in one or all categories. This tool works by linking all your financial accounts and then track them against the predefined budget.
The tool is easy to install and to link with your accounts and then to track your monthly expenses, savings, etc. as the month goes.
One remarkable feature of the tool is that it tracks every bill and suggests you different ways to save. Like it will check your telephone, internet, TV bills and help you find a better deal.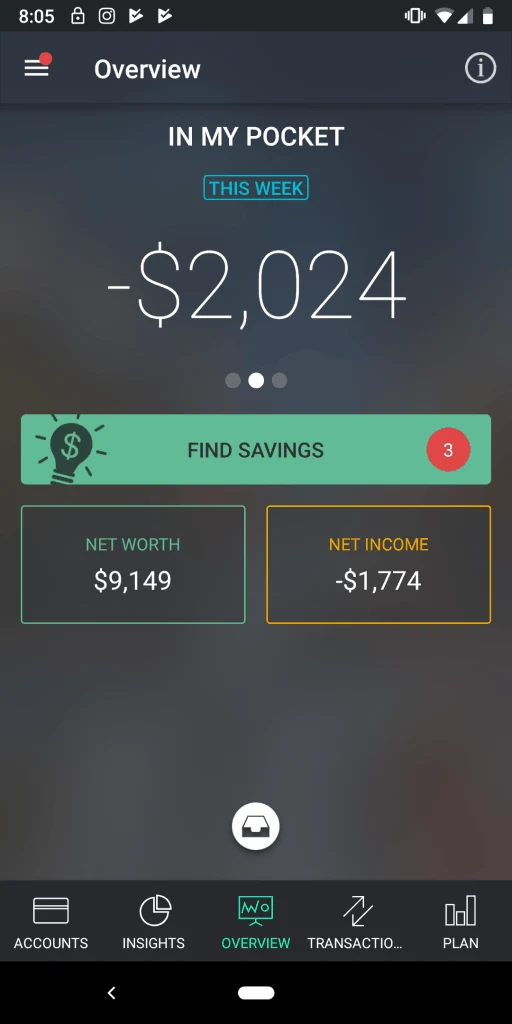 Pros
Easy to Read Screens – The biggest feature of PocketGuard are their easy to read and see screens.
Net Worth Calculator – I especially love the networth calculator. As you reduce debt and/or build your savings, seeing your net worth or your net income increase can be very motivating!
Cons
Too Many Validation Requests: The cons to this one are that it constantly asks you for your security code. It got very annoying very quickly when setting up accounts because it kept locking the screen. I think this would have been ok if it worked with my phones fingerprint scanner but it didn't.
No Customization of Budget Categories – Without being able to customize budget categories, you can't really see where your money is going. This app has it, but they want you to pay for it.
Poor Handling of Transfers – I keep my savings in a savings account and sometimes need to transfer it over. Even though both accounts are linked, it categorized this transfer as savings, causing its values for "income" to be skewed.
Overall Opinion: I uninstalled this one pretty quickly. I just felt like it wasn't going to be a good option for managing my budget if I couldn't create custom budget categories.
3. YNAB – You Need a Budget
YNAB or You Need a Budget is named to keep reminding you of the importance of controlling your expenses for a healthy financial life. This tool has been designed uniquely. Instead of accounting the for expenses based on when they happen, it manages the budget based on your income.
You can assign a role to every dollar that you earn by earmarking it towards specific purposes of expenses or savings. This way you can first pay yourself towards savings and then allocate the balance money for expenses.
You can use YNAB individually or together with your partner. It offers mobile as well as desktop interfaces that can seamlessly sync with your bank, mortgage and brokerage accounts. Either the tool will map your expenses, or you can also do so manually. The fee has unique features as early debt payoff, goal tracking, etc. to motivate you towards your money goals.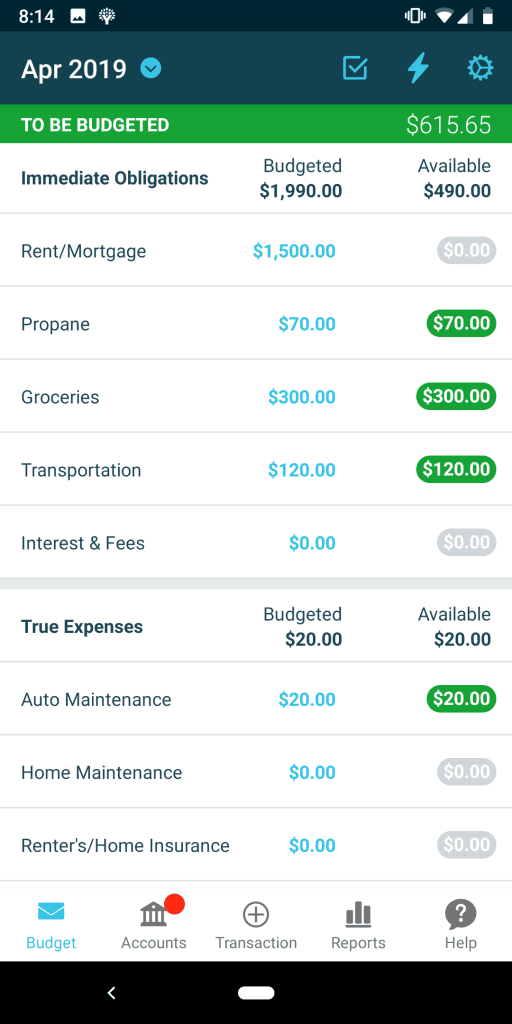 Pros
Great for helping pay off debt – I started using YNAB in version 3 and it was very helpful when I was paying off debt. It really helps you track and assign every single dollar. That is great when you are first learning how to budget and are working towards debt payoff.
Free Trial – 34 day free trial does NOT require you to input a credit card. The app is available right away for use.
Cons
Not Free – The downside to YNAB is that it is not free. The upside to this is you can earn free months by referring friends.
Capital One Connection Issues – This app does not work with my bank. Truly, it may be the fault of my bank and not the app itself as Capital One is undergoing several changes. Still, I get an excellent APR on my money market account and the fact that personal checking accounts don't have overdraft fees make this account indispensable for me.
Overall Opinion – I had purchased the YNAB software when I was getting out of debt and it helped. I subscribed when that model came available with great features. The only reason this software doesn't work for me is because it won't import transactions from CapitalOne which is my main bill pay account. If you don't bank with CapitalOne, I think YNAB is a great option.
4. Wally
Wally is a bit complicated for a new user, but a great tool to do budgeting. It works seamlessly by tracking your expenses, incomes and saving thereby enabling you to have the snapshot of remaining budget to ensure that you are not overspending in any given category.
Free to use with both Android and iPhone versions, the tool supports almost all currencies thereby making it a hit even among users outside the USA. It's also ad free which is nice!
The best feature Wally has, in my opinion, is that you can take a photo of your receipts to categorize them with your expenses. This is a great help towards reducing digital clutter!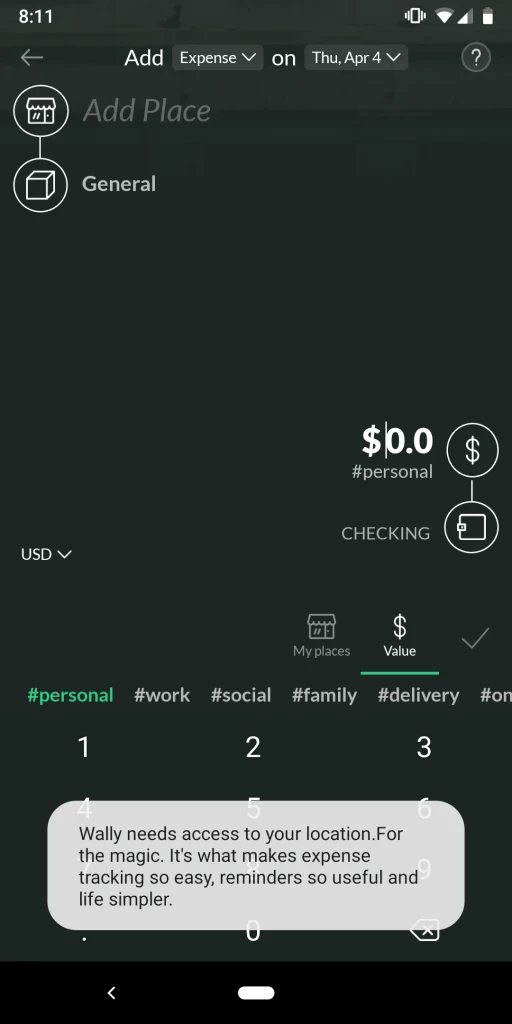 Pros
Location Based Categorization – The app claims to be able to categorize transactions based on location. That would be pretty neat.
Cons
Every feature is a paid upgrade. Want bank account connections, $2.99/mo. Want Custom Budgets, $5.99 per year
They don't have a desktop login yet.
Overall Opinion – Uninstalled this one probably the quickest. With so many apps that offer free bank account linking, this one just didn't make any sense to continue with.
5. Good Budget
Good budget is great for couples who want to share in the budgeting process. That's not saying the other software / apps listed can't, this one just does a good job at it.
It allows you to share your budgeting with partners across iPhone and Android, thereby making the process very flexible. Don't get me wrong though, it is also beneficial even for single budgeters.
You've heard of the envelope method of budgeting right? If you have, this one app should be a very easy learning curve for you. The budgeting app is designed to classify your expenses in various envelopes. You can add a whole lot of details and break up for each transaction before assigning it to a specific expense envelope.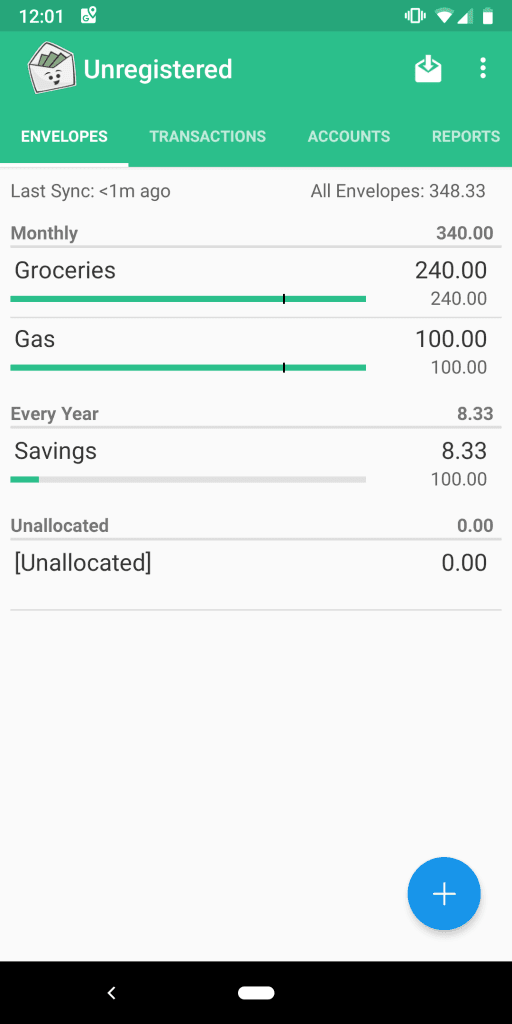 Pros
You can add up to 10 envelopes with the free version
The app also allows you to distribute your pay into different envelopes on payday
Cons
No automatic bank account connectivity.
Only one manual account.
Must manually enter transactions.
Overall Opinion: I think as far as the envelope method goes, you would be better off using actual envelopes. The one thing this app does have going for it is that you can sync the budget between two users. If you and your partner need to know how much is available for gas, for example, this would help keep you on the same page.
6. Every Dollar
Every Dollar is the budgeting app recommended by Dave Ramsey and his team. The way the app is setup makes it really clear how to add everything to get it setup.
The app allows you to make use of the goal feature and will enable you to track your spending and incomes automatically. The app tells if you are on the track of your budgeting and if need be, you can apply brakes on your spending to avoid overshooting your budget.
The beautiful part is the app is free to use with all its banking and budgeting features.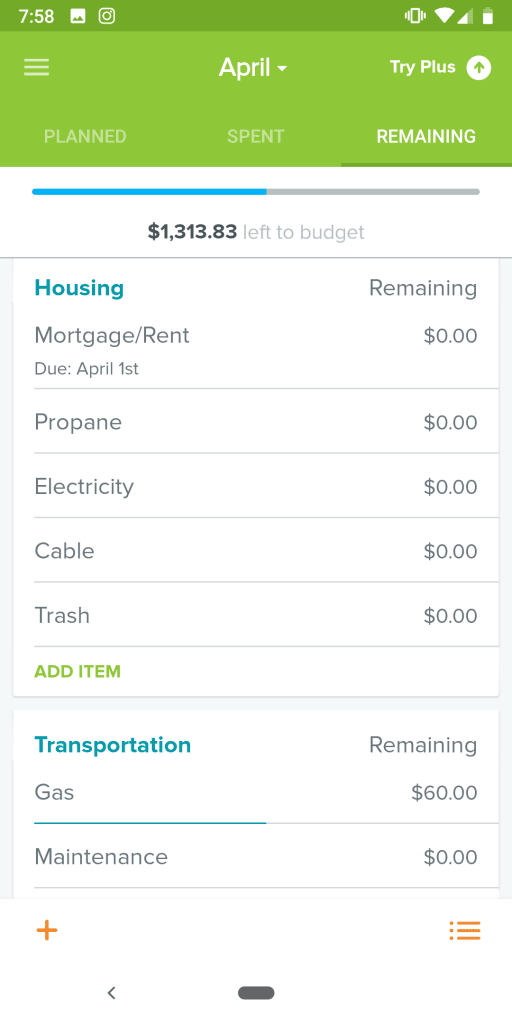 Pros
Easy to setup
Easy to see how much you have left in your budget per category
Easy to add / delete budget categories
Cons
Paid version with auto import over $10/month
As you spend money, a bar "fills up" with color under that category. That bar is a great concept but so thin it winds up being not much help at all because you can't see it.
Overall Opinion:
7. Personal Capital
One of the best budget tools for an investor, Personal Capital is another popular free financing app. It offers a whole lot of money tracking features with some useful budgeting tools. The app also provides investment solutions and support of e-advisor as well as the manual human advisor all on one platform.
Personal Finance is more inclined towards being an investment tool. It gives you the support of the free analysis of different asset classes along with other essential details. One can use the cash flow and the budgeting tools for real-time tracking of expenses from many linked accounts and in pre defines expenditure categories.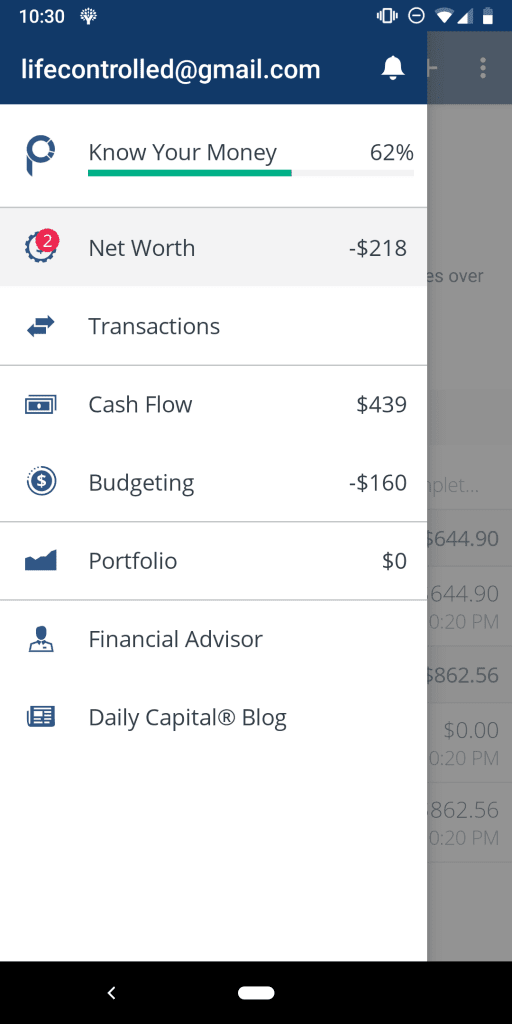 Pros
Import and easily categorize all of your transactions
Great indicator of where you are spending this month vs same day last month
Easily categorize business transactions as business with one click.
Budgeting Graph is neat per category.
Cons
Connecting my investment accounts and CapitalOne accounts took a long time.
You can categorize items as business transactions with one click but no easy to find reports for those transactions.
Focus of the app is on net worth not on budgeting.
Monthly budget is just a spending cap not a per category itemized budget
Overall Opinion: Personal Capital, in my opinion, is designed for the person that is debt free and now growing their portfolio. The person that can utilize their app doesn't really care how much they spend on groceries or gas, they just need a general idea of whether they are overspending or not so they can adjust.
Even being debt free now, Personal Capital just doesn't have enough budget details to give me the information I want to see on a routine basis. I still need and want a proper, categorized budget.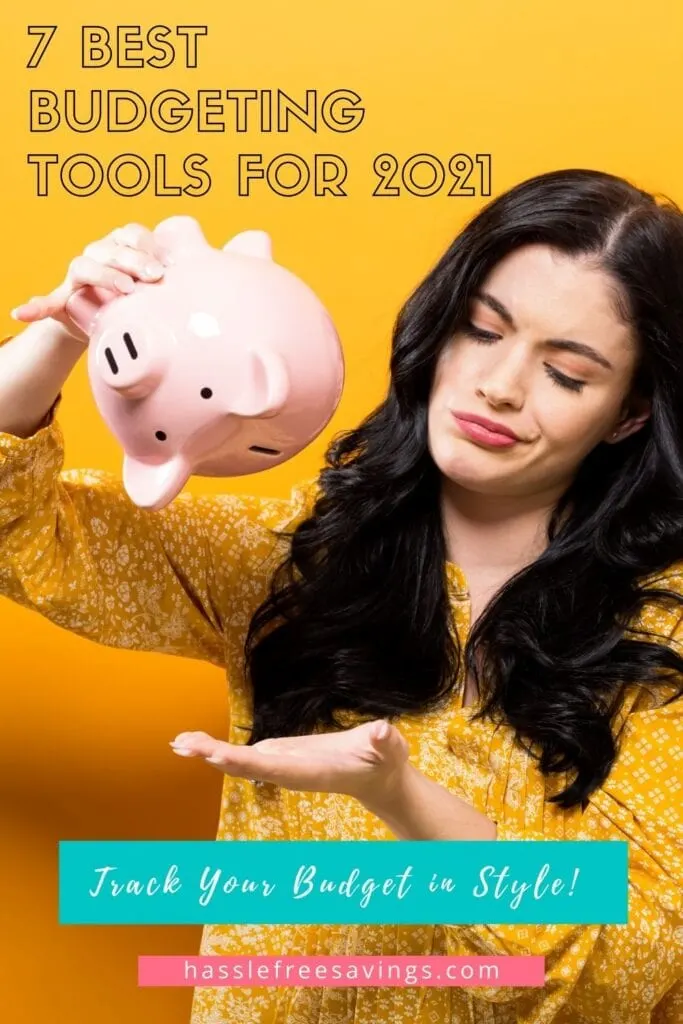 Choosing a Budgeting Tool for 2021
When you are evaluating budgeting tools you need to be realistic about what features you need and will use. What will keep you coming back to the budgeting app time and time again?
One thing I know I don't have time for is manually entering transactions. I'm a single woman doing all of the spending but I can't even imagine having to do that if I had a partner as well working with me on budgeting.
For that reason, the two apps I think are the best are YNAB and Mint. I absolutely think YNAB is worth the investment if you don't bank with Capital One. If you do, you would have to import or manually log all transactions which is more of a pain in the butt.
On a side note, with YNAB and Mint, it is very easy for me to create a "business" category and keep track of my blogging business income. While it isn't much right now, it helps me to see how much I spend vs. how much I bring in and keep things under control.
Things You Need to Consider with Any Budgeting App
Automation
Ease of Use
Report Features
Security
Customization
Conclusion
So, here we are. We've gone through seven popular and useful budgeting tools for 2021, with each having some unique features related to budgeting. I've given you my thoughts on the pros and cons and overall opinion for each of these tools.
It really comes down to what you need and what you are willing to pay. A budgeting tool can help you stay on track. Knowing where and how you are spending your money will allow you to make financial decisions that will help you reach your goals.
My recommendation is that you explore the options available, find the best budgeting app that meets your specific needs and start on the path to becoming the master of your money.
RELATED POSTS