*This post may have affiliate links, which means I may receive commissions if you choose to purchase through links I provide (at no extra cost to you). As an Amazon Associate I earn from qualifying purchases. Please read my disclaimer for additional details. Thank you for supporting the work I put into this site!
Moving to a new state is fun and refreshing until you have to pay for all the expenses that come with the move.
Fortunately, with prior planning, you will be surprised at how much you can slash the cost of moving without compromising the security of your belongings.
This article takes you through the various scenarios of the cheapest way to move out of state for a confident and seamless transition to your new home. Read on for some surefire tips.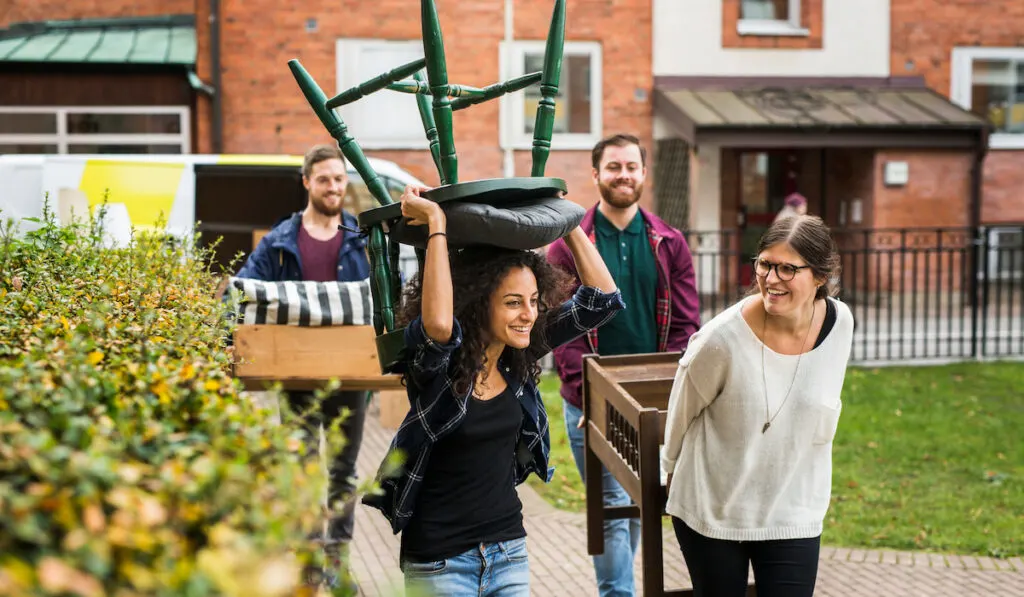 Seek Help from Friends and Family
Soliciting help from your friends and family no doubt makes for the cheapest way to move out of state. What's more, it is a genius way to make a few more memories with your loved ones, especially now that you are planning to move away from them.
Luckily, a few pizzas are enough to "bribe" them, but you must be willing to reciprocate the favor, should the need arise.
Consider Decluttering
The cheapest way to move out of state entails moving with the least amount of things possible. As such, decluttering is a great way to ensure that you only move with the things that you need.
Remember, you do not have to be a hoarder to have stuff to declutter — junk like broken gadgets, furniture, and old clothes will just eat up your precious space.
As for larger items like fishing boats, foosball tables, treadmills, and other gym equipment that are still in use, it's prudent to sell and later replace them after you are settled in your new state.
Having a garage sale is a smart way to raise some extra money for your moving expenses or that pricey first trip to the grocery store.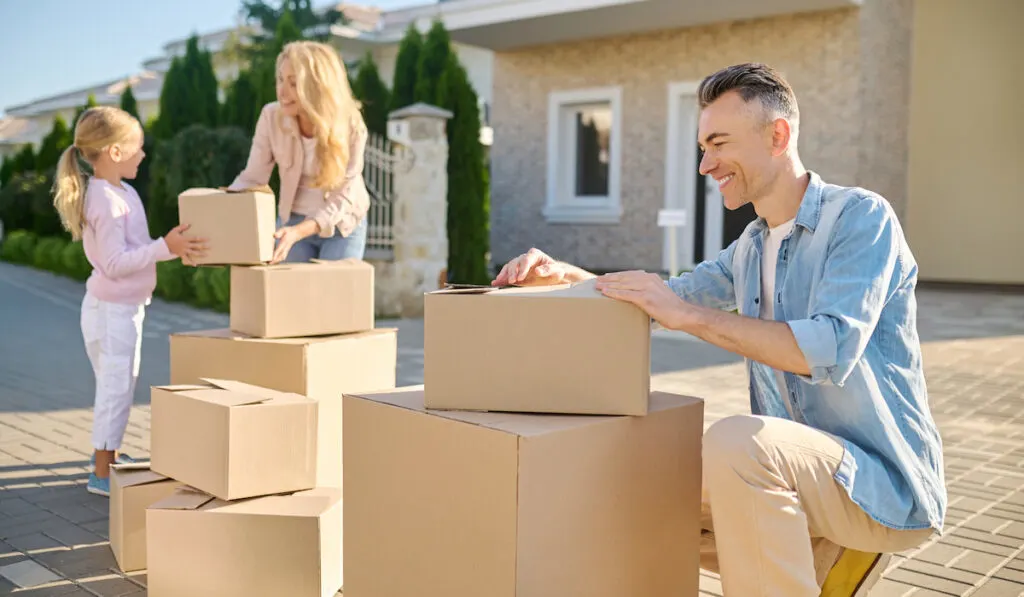 Move in the Off-Season
Moving in the summer or spring guarantees that you do not have to slide or fall on the ice or wet your feet in slush puddles.
It also means that you can dress lightly and enjoy your move.
Good as that may sound, moving in either of these seasons means that you are up against everybody else who wants to enjoy these benefits — which is often everyone.
For this reason, you should consider moving in the fall or winter when there is less demand for movers, meaning that the cost of moving will be lower than it normally is.
Also, since moving companies are usually looking for customers during these seasons, you have the bargaining power to negotiate a lower rate for yourself.
Since landlords have trouble finding tenants and buyers for their apartments and homes during these months, you have a better chance at negotiating better utilities, rent, and deposits, which is also a win.
You will be surprised to know that some landlords will even ignore your credit history to fill their stock.
Take Advantage of Free Supplies
Moving companies will usually count on you to not organize enough so you can end up paying for their boxes.
If you are genuinely invested in finding the cheapest way to move out of state, you will consider packing your belongings in your boxes. Luckily, boxes are available everywhere, and all you have to do is ask.
For instance, offices and your local malls, grocery stores, and movie theaters are box gold mines.
You only need to ask your colleagues or store attendants and caretakers to save the boxes they would otherwise discard or put away for recycling.
Alternatively, you can plan to go to garage sales in your area to get boxes and other moving materials at a bargain.
This trick will be more effective during spring-cleaning seasons when people are trying to get rid of their moving materials.
Keep in mind that you can get away with using your kitchen towels, blankets, crumpled-up paper, and pillows to pack fragile stuff if you are unable to acquire packaging material like furniture blankets or bubble wrap.
Also, who needs an expensive label marker when a cheap permanent marker will do?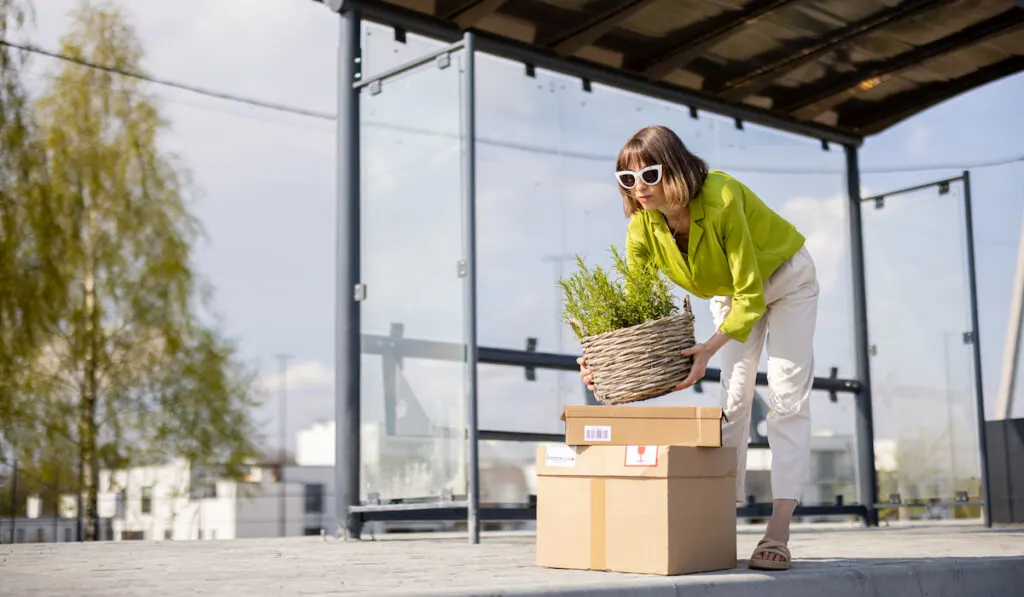 Consider Public Transportation
So, have you decluttered your belongings down to a few boxes and suitcases, sold off your bulky and large belongings, or are you simply moving out of a small apartment?
The catch with using public transportation is to ensure that the dimensions and weight of your luggage align with the various permitted thresholds. For instance:
| | |
| --- | --- |
| Transport Company | Weight Limits |
| Greyhound | 150 pounds under the bus |
| Amtrak | 500 pounds |
Keep in mind that both companies also have size limits, hence the need to pack accordingly. Meanwhile, here are a few things to keep in mind if you choose to transport your items via train.
Most train companies will have a flat rate charge for the first few pounds —- it could be anywhere from the first 100 pounds — and then per every extra pound.
You will need to keep your luggage in small manageable boxes even when moving by train — most companies do not allow oversized items.
Most train companies will not allow you to ship things like valuable art, electronics, or fragile items onboard.
You will have to pick up your items within the first 48 hours to avoid paying a storage fee.
You may have to ship your items in several freights if you have lots of things you need to move.
It is also important to note that you must live near a train station and be moving to a place near one for this mode of transportation to work.
Otherwise, you will need to hire a moving truck or a U-Haul to move your items to and from the train station.
Depending on where you live or are moving to, this may still be the cheapest way to move out of state. However, if it is more expensive than it's worth, try out any other options in this list that best suits your needs.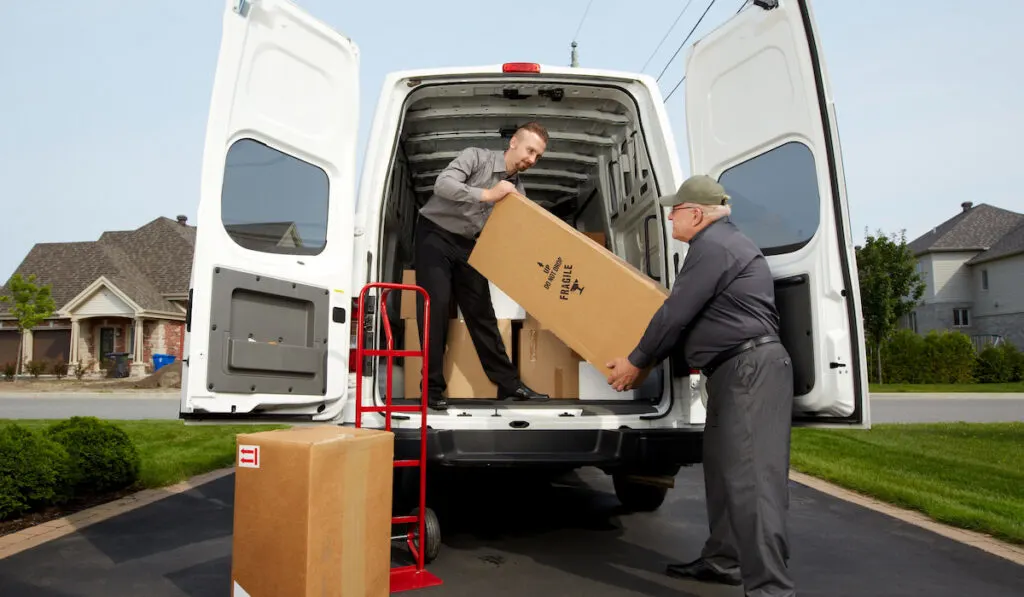 Ship Your Items
Most people do not consider shipping when exploring their moving options. It is, however, a cheap way to move out of state when properly planned. Luckily, there are several ways you can approach shipping.
Here, you have the option of using either:
LTL freight carrier
Parcel carrier
Shipping marketplaces
For instance, you can use parcel carriers like DHL, USPS, UPS, and FedEx to ship small items like laptops to lessen the bulk of your load. Using this shipping option to move large items will increase your costs.
Larger items like furniture will be easier and cheaper to move using shipping marketplaces.
A great option for this is uShip. Here, you will advertise what you need to move, and service providers will send you moving offers.
Keep in mind that while this is a cheaper option than using moving companies, it is somewhat risky hence the need to thoroughly vet the people sending you offers.
LTL freight carriers, on the other hand, incorporate your items on trucks that are moving other things to save money and space.
Due to its nature, LTL freight carriers may take longer than other shipping options hence the need to be flexible and plan earlier for it.
Hire a Moving Container
Hiring a freight container is another cheap way to move out of state. Besides saving you lots of money, you do not have to go through the hassle of driving cross-country with your belongings.
Depending on the size you opt for, your chosen moving container company will bring a moving container to your home for you to load up. From there, the company will ship the container to your new address.
Alternatively, you can use the moving container as a storage unit if you are still in-between places.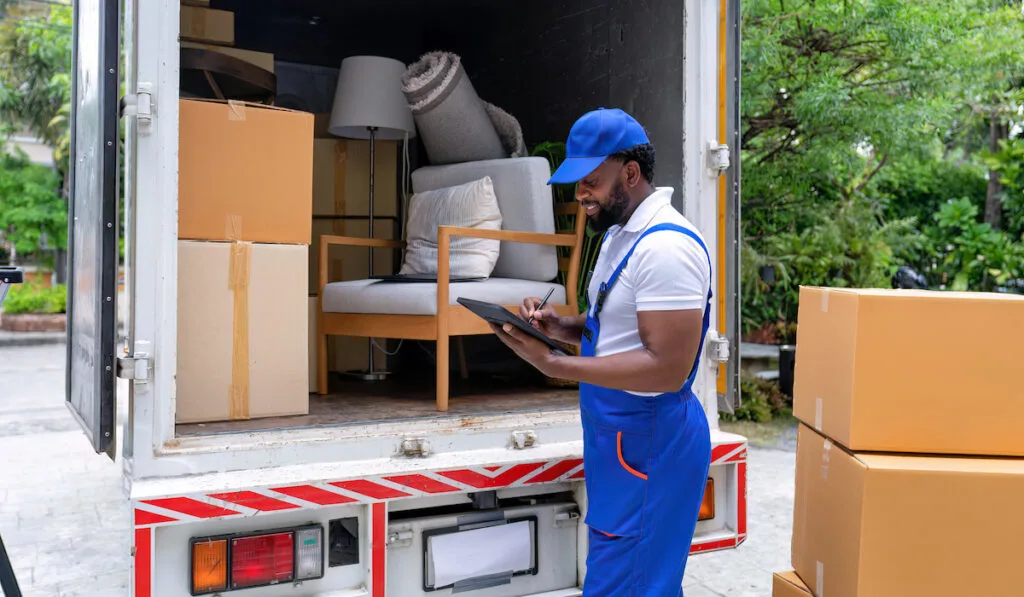 Consider a Moving Truck
A budget-friendly way to move out of state does not get better than opting for the numerous DIY moving options. One such option is renting a moving truck for a given number of days.
Remember that most moving truck companies will have a mileage limit, hence the need to confirm that your destination is within the accepted range. What's more, the renting fees for hiring a moving truck will not cover any additional costs like:
Gas
Meals
Hotels
Insurance for the move
That being said, here are some helpful tips on renting a budget-friendly moving truck:
Most truck-moving companies will match prices. Therefore, collecting as many quotes as possible in your area will get you the best deal possible
Consider packing your own food for the transit to cut down on meal costs.
To ensure that you are going for the cheapest way to move out of state, estimate the total gas cost and weigh that against other moving options.
Call the company office a day before to confirm your reservation.
Hire a Tow-Behind Trailer
The cheapest way to move out of state does not get better than hiring a tow-behind trailer, especially if you do not mind driving yourself, are moving to a neighboring state, and have a vehicle that can accommodate a tow-behind trailer.
Luckily, tow-behind trailers are readily rented out by many moving companies like U-Haul.
Even so, only go for this option if you have prior experience with tow-behind trailers since they can easily lead to road accidents.
If you are doing a long-distance move and a tow-behind trailer seems like an increased danger to you and other people on the road, then this moving option might not be worth the risk.
Cargo Vans for Small Moves
Cargo vans are ideal options for moving out of state, especially if you are alone or have a small family. Unlike large moving trucks, these vans have better gas mileage, which will ultimately cut down gas costs for both short and long distances.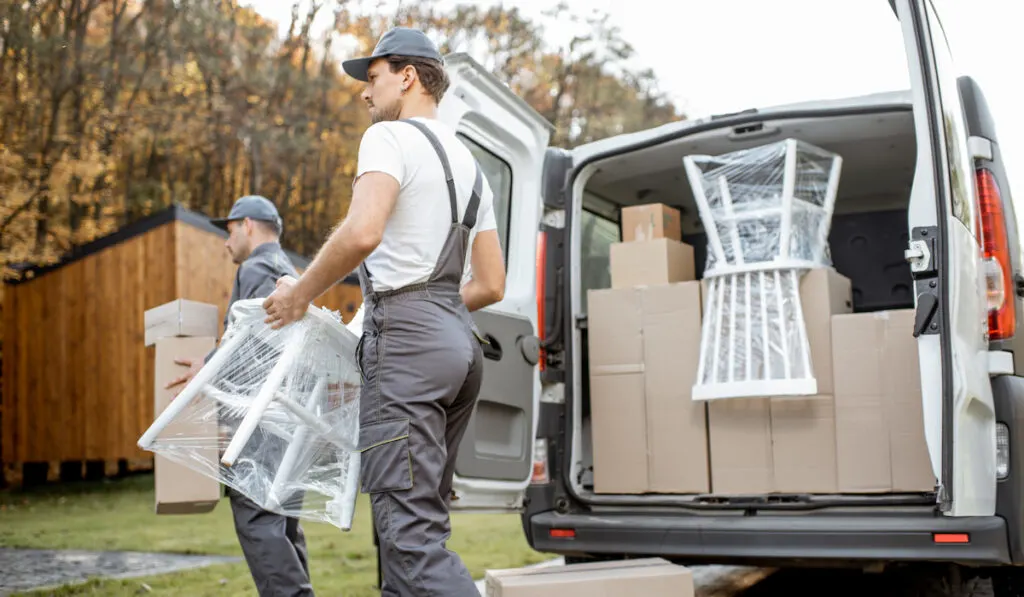 Save Up for Your Moving Expenses
Paying for all your moving expenses in cash is undoubtedly the cheapest way to move out of state. This way, you are not wasting your hard-earned money on interest, which means you are not leaving yourself stuck in debt.
With this in mind, you should make a conscious decision to start saving up for your move as early as possible so you can have enough cash on hand to pay for all your expenses.
Fortunately, cutting back on your monthly expenses will get you started on your savings.
Negotiate a Package at Work
Are you moving to another state for work? This might be the cheapest way to move out of state.
This option entails your employer covering part or all of your moving expenses. The best-case scenario is having all the expenses paid and you move for free.
However, since it is not always a given benefit, having even the slightest moving expense taken off your budget is still a win. Therefore, consider enquiring if there is a relocation package in place the next time you move out of state for a job.
It could be in the form of a lump sum or reimbursement for your moving troubles. Whichever the case, inquire about its availability before your actual move.
Here are some expenses that a relocation package might cover:
House hunting trips to your new location
Temporary housing
Specific costs related to selling and buying a home
Travel costs to cover your final move
Shipping expenses for your move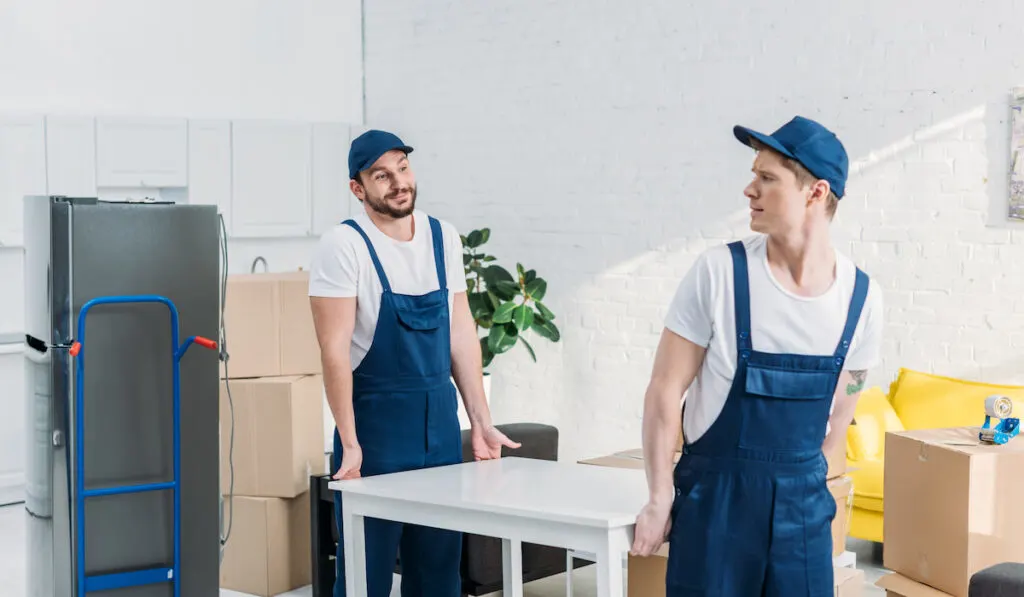 Try Affordable Movers
Hiring professional movers is obviously the furthest thing from the cheapest way to move out of state.
It might, however, be your only option if everything else doesn't work out or if you do not have the luxury of time to handle everything yourself.
That being said, you can shop around for quotations from various movers to ensure you get the best deals available. As earlier mentioned, consider moving during the off-season or during weekdays if you choose to go with this option.
Final Thoughts
There you have it. With these foolproof money-saving tips, moving out of state will not be as damaging to your finances.
That being said, finding the cheapest way to move out of state will only make sense if you have worked with a real estate agent who cares about your finances and has offered reliable housing advice.
Resources: