*This post may have affiliate links, which means I may receive commissions if you choose to purchase through links I provide (at no extra cost to you). As an Amazon Associate I earn from qualifying purchases. Please read my disclaimer for additional details. Thank you for supporting the work I put into this site!
Are you ready to get started with your year long saving challenge? Did you start the 52-week money saving challenge but have fallen behind or are having trouble keeping up? We have some 52-week money saving challenge printables to help you get on track and save money!
The thing to remember about any money saving challenge is that it is absolutely OK to make it your own. You should be able to choose how much money you want to save over the next 52 weeks.
It is important to choose an amount that is right for your income. Just enough to challenge you to work hard, but not so much that you set yourself up for failure.
Here are some great 52-week money saving challenge printables to get you going. All of these printables are available FREE in our resource library. Use the form below or at the bottom of this post to sign up for our newsletter and get access to the resource library. I add new printables each week!
Traditional 52-Week Money Saving Challenge Printable
For this money saving tracker we have three different background options available. Plain white as you see below as well as rainbow wood and pink stripes.
For the traditional 52-week money saving challenge, each week you'll save a different amount starting with $1 on week one and ending with $52 saved on week $52.
Reverse 52-Week Money Saving Challenge Chart
The 52-week challenge is great in theory, in actuality it requires you save the most amount of money during the highest spending period of the year. Whether you are visiting your family over Thanksgiving week or buying gifts for Christmas, saving nearly $50 a week at this time of year can be tough.
This is where the reverse 52-week challenge is very helpful. With the reverse challenge, you start the year off with the largest savings goals and work your way to the smallest ones. The same goal is accomplished but you don't feel it so much during the holidays!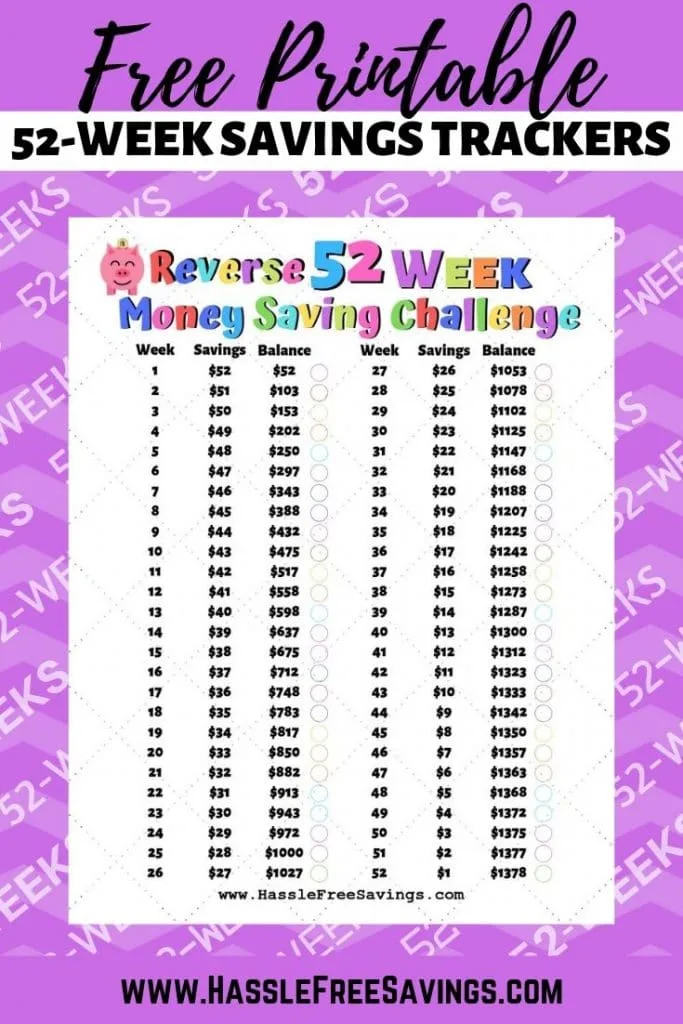 $1,000 in 52-Weeks Money Saving Challenge Tracker
With this type of money-saving chart, you color in one square each week. Pick the square that corresponds to the highest amount of money you can spare that week, send the money to savings and color in the box. At the end of the year, all of the boxes will be filled and you will have saved $1,000.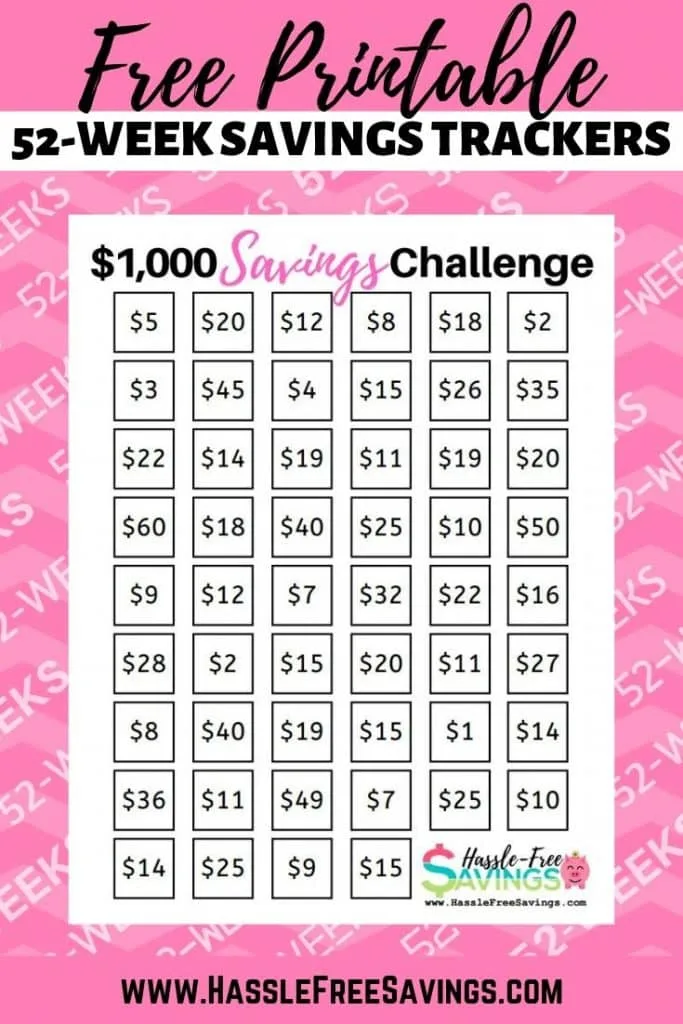 $2,000 Money Saving Chart
Am I the only one that remembers the classic video game "Bubble Bobble"? This tracker reminded of that because of the cute little bubbles. Kind of like a Mr. Bubble bubble bath too. Just color in the bubble relating to the amount you are able to save for the week. At the end of 52 weeks you should have saved $2,000.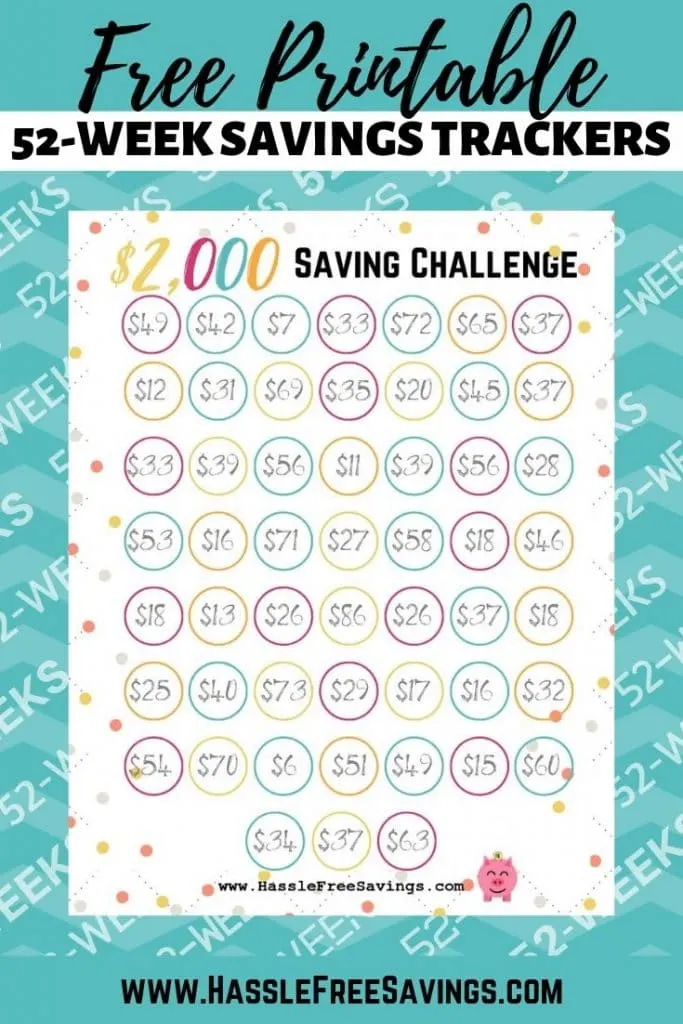 $2,500 in 52-Weeks Money Saving Challenge Chart
Is $2,000 not quite enough of a challenge for your budget but $3,000 maybe too much? This free money saving printable will help you track $2,500 worth of savings over 52 weeks. Color in one star each week and at the end of 52 weeks you will feel like a superstar!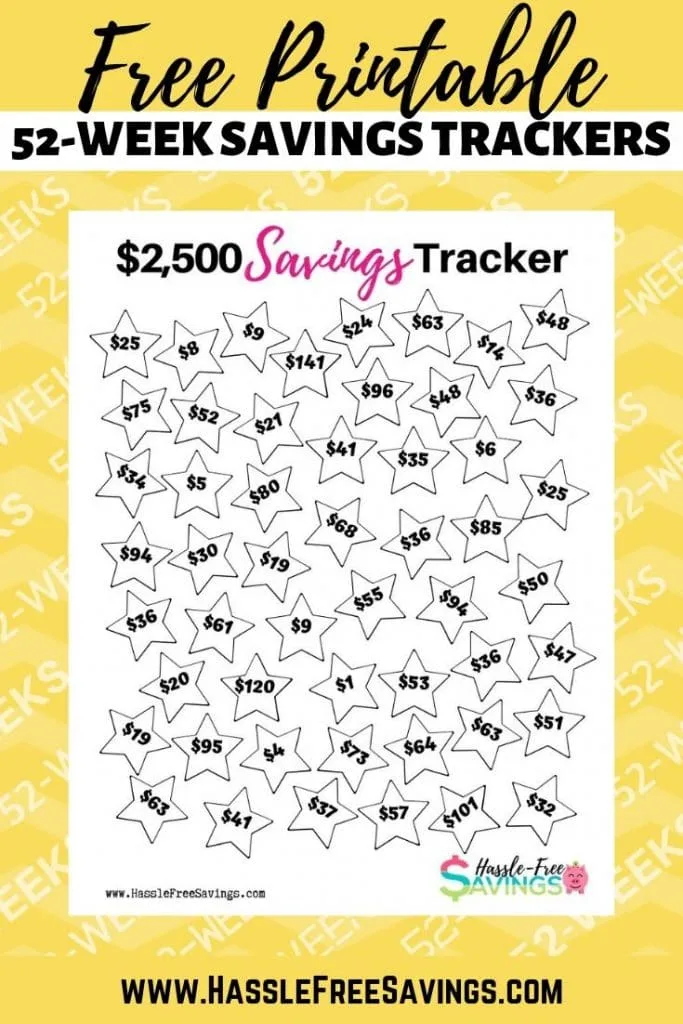 $3,000 in 52-Weeks Money Saving Challenge Chart
Is your goal to save $3,000 over the course of a year? This chart will help you get there. Each week color in a square. 52 squares later you will have saved $3,000.
Looking for inspiration on how to save $3,000? Check out our post that covers just that: How to Save $3,000.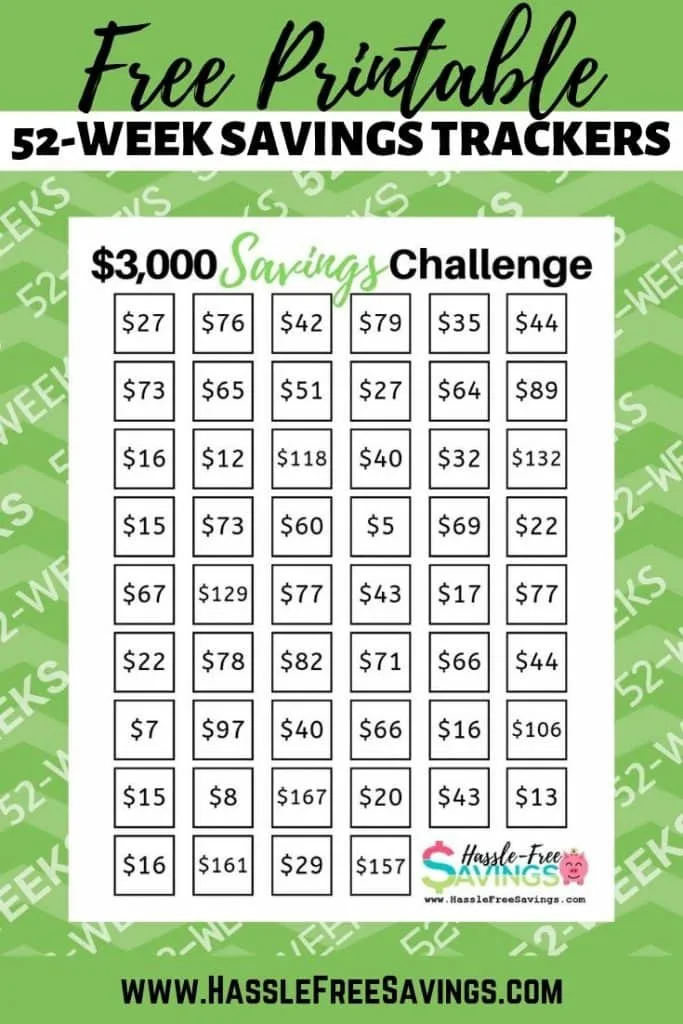 $5,000 in 52-Weeks Challenge
This tracker is super cute don't you think! There are two colors available in the resource library; this pink one and a gold one as well. If the traditional 52-week challenge just isn't enough of a challenge for you, this free printable savings tracker is a great alternative.
Keep in mind that I specifically didn't put the word "52-Weeks" on most of these money saving charts so you wouldn't feel like you had to start at the first of the year. Get started now!
Other Free Printable Charts
Are you looking for other money saving charts or challenges? We have over 30 charts available in our FREE resource center (use the form below to sign up). You may also find these posts interesting:
Final Thoughts
Remember that the 52-week money saving challenge is supposed to be a fun way to challenge yourself to save more money over the course of a year. If you are short one week, make it up the next. If you get a windfall, tick off some of the highest amounts to get ahead. Remember to make the challenge your own, and, when possible, let the whole family get in on it.
Just remember to stay motivated!!
Related Posts