*This post may have affiliate links, which means I may receive commissions if you choose to purchase through links I provide (at no extra cost to you). As an Amazon Associate I earn from qualifying purchases. Please read my disclaimer for additional details. Thank you for supporting the work I put into this site!
For your saving pleasure, I'd like to introduce 3 free printable saving charts. This month I am keeping things super simple with a Saint Patricks Day theme.
I've been playing more and more with my Ipad and Procreate app for drawing and absolutely love it. I drew the cute clover, pot of gold and rainbow icons pretty quickly and added them together for this cute freebie!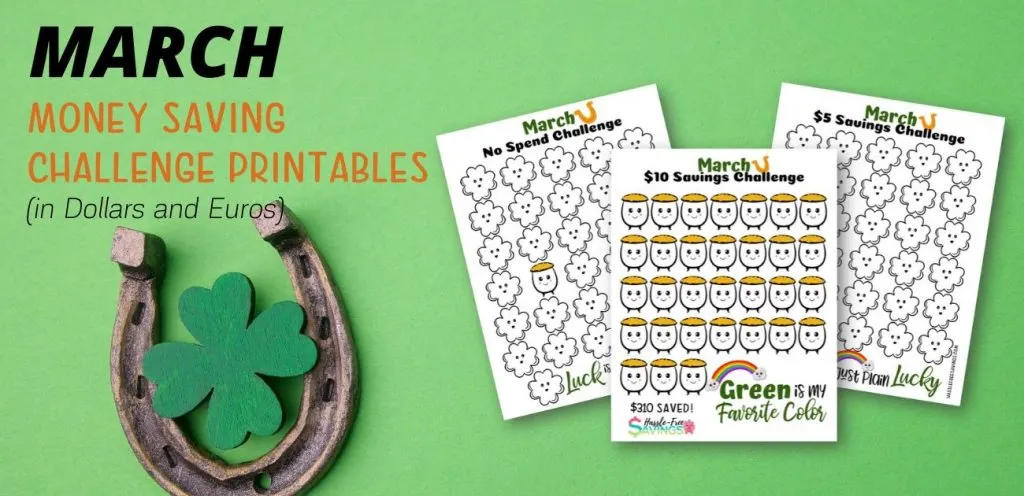 There are three different printable options for you to choose from. They are the:
No Spend Challenge
$10 Savings Challenge
$5 Savings Challenge
March No-Spend Challenge Ideas
March has 31 days. That is 31 opportunities to meet your no-spend challenge goal. Even though there are 31 spaces for these challenges how you work it into your budget is entirely up to you. Here are some ideas!
1 Week On / 1 Week Off
When I color in savings trackers, sometimes I like to be random and, sometimes I like patterns. One way to easily challenge yourself is to alternate rows on the sheet.
In this case, you could easily do 5 days on and 5 days off. The first through the fifth, challenge yourself to meet your no-spend goals. The next five days, take a break.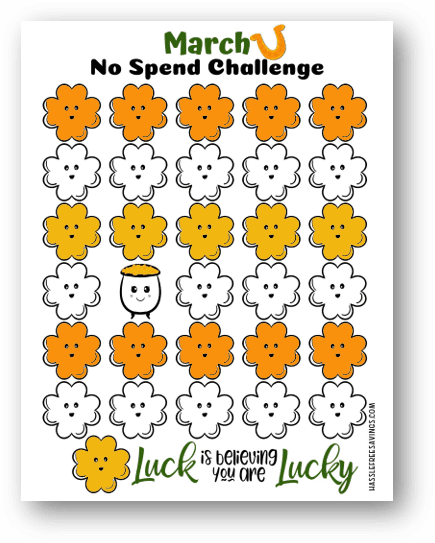 Rinse and repeat this until the month is over. You may find that sometimes you are able to save extra days too. That is OK just color those in too!
Hit the Diagonal
Another fun way to challenge yourself is to strive to hit the diagonal. This is basically an every other day methodology.
In the example below, I used the colors of the rainbow but it would look just as snazzy, and be just as motivating if it was all one color.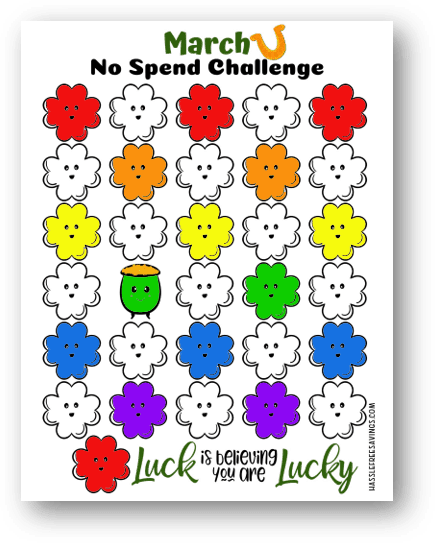 Around The World
Another fun way to fill out your no-spend challenge worksheet is to do what I call an "around the world" pattern. It looks like this: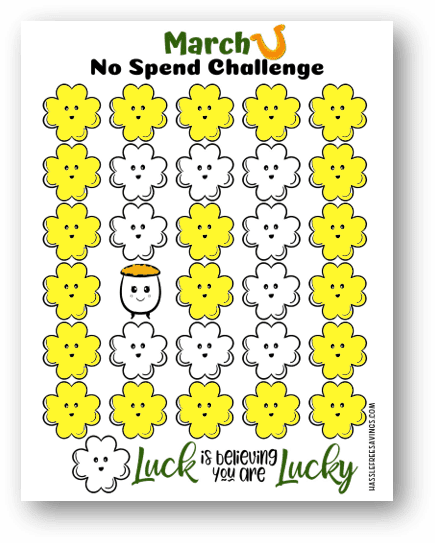 Coloring In Other Money Saving Challenge Worksheets
Keep in mind that while I used the no-spend challenge worksheet above as an example, you could apply the same principle to any money-saving printable you pick for any month.
The total dollars saved value may be off but so what. Cover it up with a sticker, cross it out and put your own goal, it is completely up to you!
You are here, you are actively working towards a goal and it is YOU who should shape that goal!
Final Thoughts
The different coloring patterns I am suggesting for your March money saving challenge are just meant to remind you that you don't have to fill in every day. You just need to set reasonable goals and work towards them.
Saving money, getting out of debt, and being frugal are not overnight tasks. For many, they will take practice. There will be months you succeed and sometimes, there will be setbacks.
The goal is to find a way to stay motivated during your journey. I hope these trackers help you with that!