*This post may have affiliate links, which means I may receive commissions if you choose to purchase through links I provide (at no extra cost to you). As an Amazon Associate I earn from qualifying purchases. Please read my disclaimer for additional details. Thank you for supporting the work I put into this site!
Teen boy asks teen girl out on a date. Boy promises girl to take her out to a VERY expensive place; girl is super excited, imagines them dining at a fancy restaurant. Boy picks girl up, takes her to the movies and buys her popcorn, soda and a hot dog for dinner at the concession stand. "I told you I was going to take you to a very expensive place." (Insert drumroll here).
I never understood the joke when I was younger, until I had to pay for my own ticket and popcorn. Boy, was it expensive! But still, the excitement of watching the summer's blockbuster on the silver screen, the smell of yummy, buttery popcorn and finishing the gigantic bucket in record time, right after the commercials end, make it all worth it.
It doesn't get any cheaper as time goes by either. Add in friends, spouses, kids, nieces and nephews and the costs can add up. So if you don't want to give up this experience but definitely want to spend less, follow these tips.
1. Be on the Hunt.
There are so many ways to score free (or at least cheap) movie tickets!
Keep an eye for sweepstakes, giveaways and other types of promos when blockbusters are about to be released. Radio stations, local TV and kiddy treats almost always give out tickets.
Wholesale clubs like Costco and Sam's offer deals for their members that include general admission vouchers, drinks and snacks.
Search for coupons or promo codes online, or sign up for deal websites like Groupon or Travelzoo.
Some grocery stores, gas stations, even AAA, sell tickets at special discounts, and you can always use their cask back points to get them.
Follow your favorite movie theater on social media and subscribe to their promotional e-mails.
Go for plastic. Use your credit card or cash back points at the box office or online when purchasing tickets. Another great alternative is buying gift cards at discount websites. You can get a $20 card with a 10-15% markdown!
2. Find a Discount Theater
In California, discount theaters are common. I'm not sure how this trend translates to the rest of the US but it is worth a look. My local discount theater allows you to see movies on the big screen for only $3 per person.
Of course, there is a trade off. These are not new movies. They have been out for a while, but, if what you love is the sights and sounds of movies on the big screen, this type of theater can be a perfect solution.
3. Stand in Line.
Making movie reservations is super convenient, but you may be charged for extra fees. If you're willing to make the sacrifice, get there earlier and stand in line. Unless you're taking a group of children. Then that extra dollar or two is worth it.
4. Loyalty Pays.
Check your favorite movie theater's rewards program, sign up and download the app (if they have one) to get incentives like discounts on admissions and concessions, and keep track of points that can be exchanged for prizes. Buying tickets in bulk can also help you lower costs.
5. Medium or Large?
If the price difference between sizes is minimal, then go for it, make it a combo. Besides, a large bucket of popcorn and soda are usually bottomless, so instead of making separate purchases per person, share.
But forget about asking for extra cups at the concession stand, everything is inventoried at the end of the day. If you're watching the film with the whole family, bringing small cups or bags for each kid is recommended. This will avoid kids fighting over who holds the bucket, which can otherwise ruin the moment for everyone present.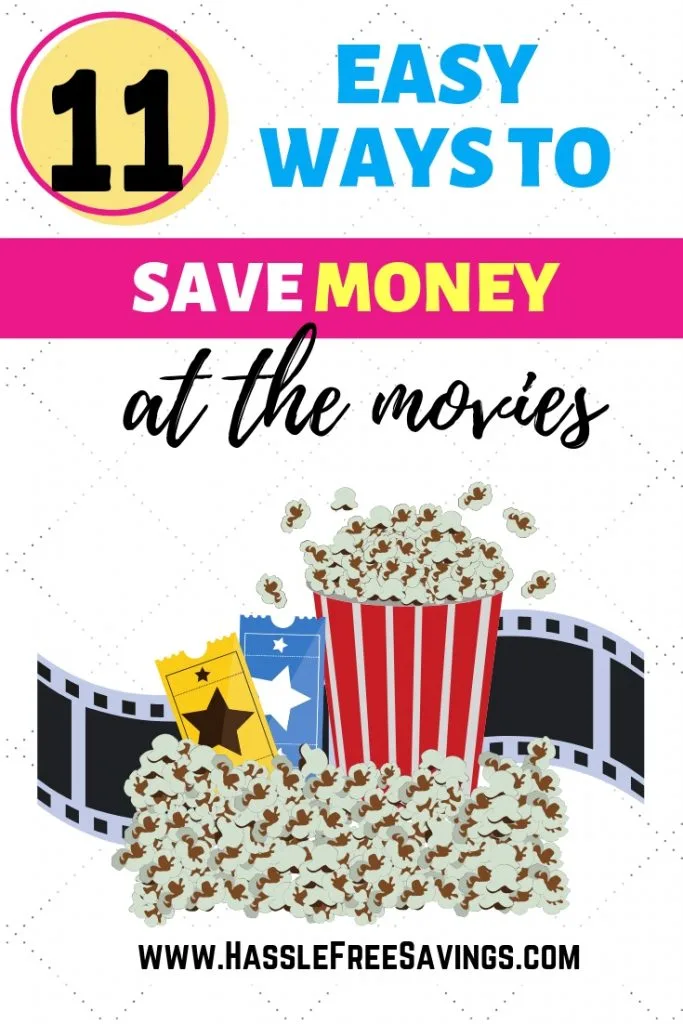 6. Sign Up for a Free Screening.
To create a hype on their upcoming blockbusters, production companies sometimes set up free screenings for fans. Sign up on specialized websites so you can get the heads up and get to see a highly anticipated motion picture before anyone else.
7. Go to Matinees, Pre-matiness or During the Week.
Multiplexes have special rates during their less busy hours. A win-win for those who hate crowds and people talking during the movie.
8. Take Advantage of Your ID
Use your student, military and senior ID to get special markdowns. These discounts exist because the theaters want to encourage you to be there and you should definitely take advantage when they are offered.
9. Go to a Drive-in.
Take advantage of this little gem if you're lucky to have one in your area, not only for the nostalgia. You get to watch the film in the privacy of your car, bring your own snacks and sometimes you can score a double feature. The big plus? The entrance cost is cheaper, since they charge by the car-load.
10. Reconsider 3-D, 4-D, IMAX and VIP.
Unless the movie you want to watch has amazing visual effects, then don't pay the extra cost. The enhancement won't add anything to it and you might end up with a terrible headache. Watch out for theaters that advertise their screens as IMAX but in reality are much smaller. Consider going to the VIP section only on special occasions, like when trying to impress your date.
Research is key when trying to save money. So before going to the movies, check out the reviews on the film you want to watch. Does the director have a good track record? Is it nominated for an important award? Do you like the actors? Consider if it's worth the splurge, if not, just wait for it to be available on any streaming site (which nowadays takes up three to four months after their release date) and enjoy it from the comfort your couch, with no harm done to your wallet.
11. Eat At Home Before You Go
This is my favorite trick. I almost always make sure I have eaten at home before I go to the movies. This can save me almost $20 because I don't need to buy popcorn or soda. Because I also don't buy a drink, it has the side bonus of being able to sit through the whole movie without going to the restroom!
Conclusion
There are many ways you can cut costs and still go see movies in the theater. If you are a big movie aficionado, make sure to budget for a movie category. If you only go a couple of times a year, it is probably sufficient to just have a general "entertainment" category for your budget. Whatever the case may be, set a budget and stick to it to avoid overspending but, most of all, have fun!
Are you looking for other ways to have fun on a budget? You may be interested in these articles: