*This post may have affiliate links, which means I may receive commissions if you choose to purchase through links I provide (at no extra cost to you). As an Amazon Associate I earn from qualifying purchases. Please read my disclaimer for additional details. Thank you for supporting the work I put into this site!
For any shopper, the words 'rebate', 'discount' and 'sale price' invoke emotions of happiness and excitement. After all, when you go to the market and spend your hard-earned money on a commodity, the possibility of saving a few bucks catches your attention and interest. There are many types of rebates available. How do rebates work to save you money? Let's dive a little deeper into the topic to find out!
Types of Rebates
There are four main types of rebates offered to customers. These are:
Instant Rebate– When an item is being sold for a discounted price, you are getting an instant rebate. You don't have to fill any form or furnish any detail to make use of this rebate.
Online Rebate– Many online sellers offer special discounts for making purchases through their websites rather than from the physical stores. You may or may not have to furnish a few details to get this rebate.
Mail-In Rebate– As the name suggests, these rebates are redeemed by postal mail. The customer has to furnish some details and send them to the manufacturer by mail, and after a few days (or weeks), the manufacturers send the rebate check that can then be deposited into your account.
Cash-back Rebate– Many retailers have offers for cash-back rebates. Most regular retailers describe these as discounts or in-store specials whereas other vendors like car dealerships and credit card companies are more likely to use the terminology "cash-back rebate".
TIP: Click on any of the links above to jump to that section in this post.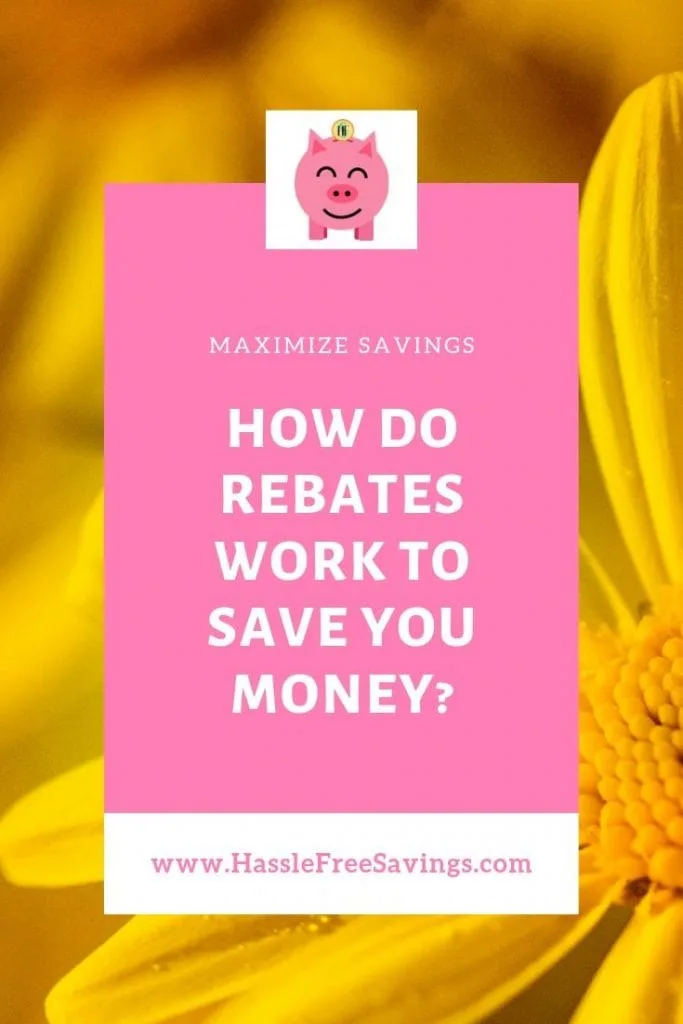 Instant Rebate
What is an Instant Rebate?
An instant rebate is an instant discount or price reduction at the time of purchase. Instant rebates are typically used by retailers to make it seem urgent to purchase the product now while the "instant rebate" offer is valid. The reality is, it is no different than the retailer offering xx dollars off or a percentage discount.
Benefits of an Instant Rebate
The final discounted price could be a good bargain; you should research this first before jumping into a purchase.
There is nothing to mail in or submit online to "redeem" the instant rebate offer. It is applied automatically at checkout.
Some instant rebates can save you money more than one way. If you want to see an example, this is a great article about instant rebates and saving money on electricity.
Disadvantages of Instant Rebates
The final price is not always a good deal. Retailers use the term "rebate" to encourage you to purchase now. Always do your research before buying an item even if it has a rebate available.
Instant rebates sometimes have limitations on whether or not they can be combined with other discounts or coupons. This means it could be possible to save more by purchasing at another store that allows you to use a coupon even if they aren't offering the same rebate.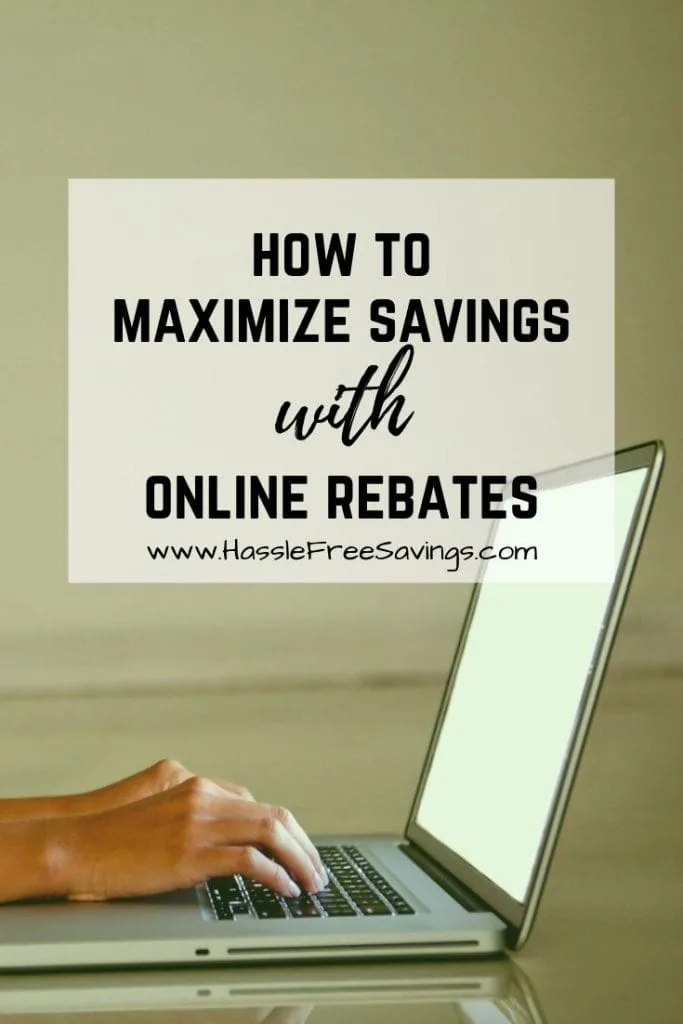 Online Rebate
What is an Online Rebate?
An online rebate is a discount or refund that can be redeemed entirely online. Typically this type of rebate is offered by the retailer or manufacturer of the product but there are some companies that specialize in online rebates as well.
Steps to Redeem Online Rebates
Online rebates are my favorite. They are often a really great deal and can be submitted and tracked online. The process for redeeming them varies by who is offering them though.
Online Rebates via Ebates
Ebates is probably one of the best places to find online rebates. It is free to join and offers online rebates for a variety of different stores including Amazon.com.
The biggest benefit to Ebates is that you can get rebates on online purchases as well as in store purchases. Planning a trip to Bed Bath & Beyond? Back to school shopping at Big Lots? Both are eligible for in store cash back. You just have to link your credit (or debit) card to the offer and be sure to use it in store.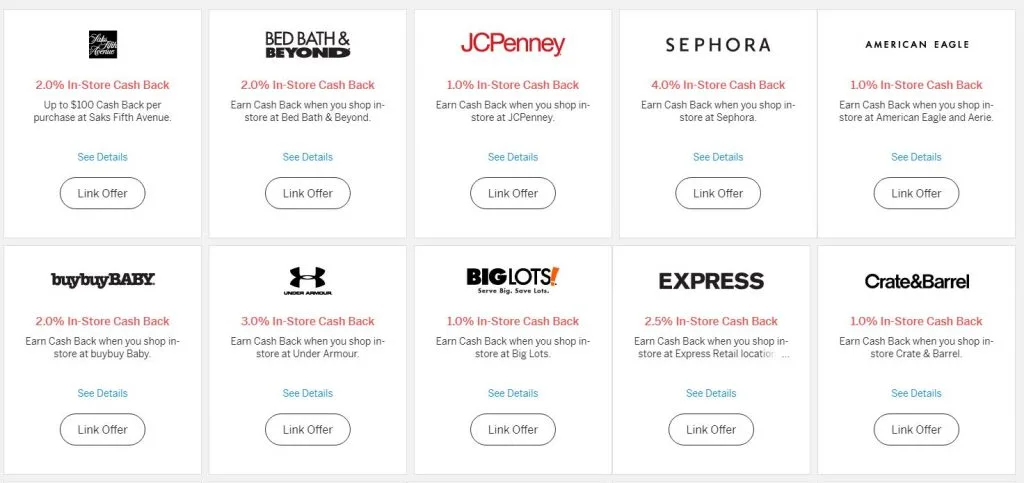 Be sure to look at the details. In most cases you need to be sure to run your card as a credit transaction even if it is a debit card in order to receive the cash back. Right now in my Ebates dashboard they are offering 1-5% cash back depending on the store. That can really add up!
I am an Ebates affiliate so, if you sign up using this link, you'll receive $10 after you spend at least $25. I'll receive $25 as well. Their referral program is also a great way to side hustle if you have friends that shop online or at any of the retailers they list.
Online Rebates for Home Improvement
Most commonly I have redeemed online rebates at Lowe's and HomeDepot. They both make the process super simple. On the Lowe's site, you can search for offers, submit your rebate and track the status all through their convenient online portals. This makes looking at the Lowe's site an absolute must before starting any home improvement project!
Mail-In Rebate
What is a Mail-in Rebate?
A mail-in rebate is a cash-back refund that a customer can receive when the purchase a specific item. Typically, mail-in rebates are offered by product manufacturers to encourage the purchase of their items. This type of rebate must be submitted via mail along with the proper forms. Usually, this includes the rebate form and the original purchase receipt.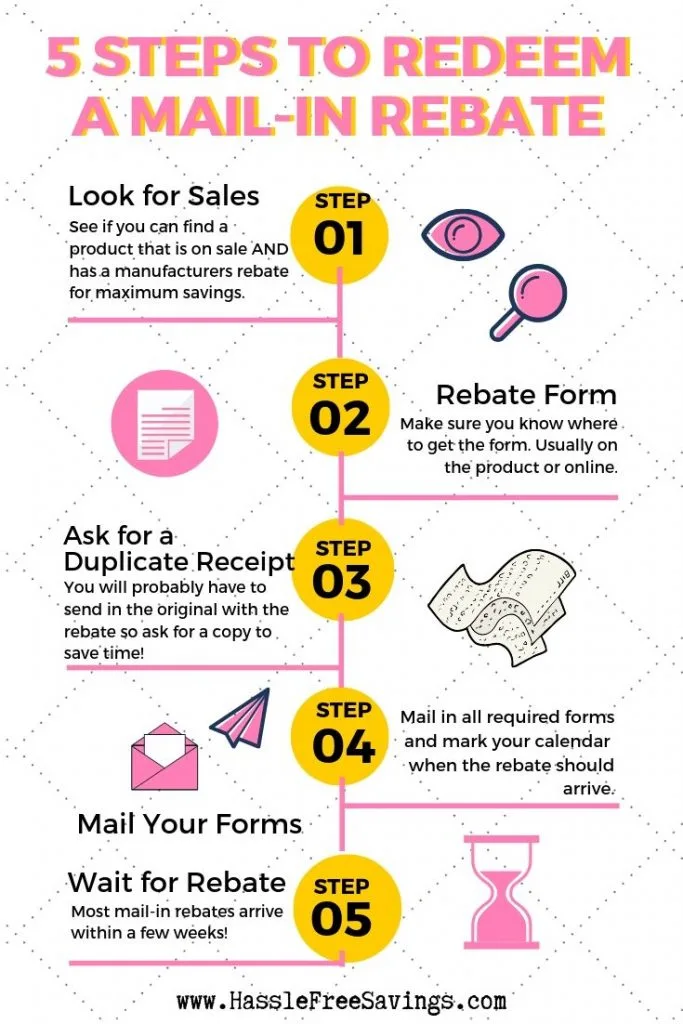 5-Steps to Redeem a Mail-In Rebate
I've turned in quite a few mail-in rebates and here are my steps when doing so:
Look for Sales – Typically you are purchasing the item at full-price but pay attention to the rebate details. If it doesn't have any restrictions about combining with another discount, look for the product on sale. This will lead to a bigger discount.
Where to Get the Rebate Form – When you first learn about the rebate, be sure to bookmark the form if it is online or make sure you get a copy. Sometimes the rebate form is already attached to the product, sometimes you need to visit a website to find it.
Ask for a Duplicate Receipt – Many stores can print a duplicate receipt for you. If you know that you will be redeeming a rebate for an item you purchase, ask the cashier for a duplicate receipt. This will save you steps in the long run. Most mail-in rebates require that the original receipt accompany the rebate. This way you can send the original and keep the copy for your records.
Mail Your Rebate Forms – Make sure to follow directions on the rebate form. Generally, they want the receipt and most companies offering a rebate will want the UPC mailed in as well. I, personally, keep a copy of everything that goes in the envelope for my records in case there is an issue with the mail.
Wait for Your Rebate to Arrive – Typically the rebate form will give a time-period for all rebates to be processed. Write this date down in your calendar so that you remember to check in if you haven't gotten the rebate yet. Depending on the terms and conditions, the manufacturer may take a few days or a few weeks to get back.
How are Mail-in Rebates Beneficial?
For the shopper, these rebates are a great way to save money. Once you get the hang of it the process goes pretty quickly and rebates can add up. The big key is to not purchase an item because you will get money back but to look for rebates for items you need to purchase anyway.
For the manufacturer, mail-in rebates are a great way to ensure that customers choose their product over similar ones on the market that don't offer rebates. They hope that by offering a discount for you to try their product; they will be able to turn you into a repeat customer.
Disadvantages of Mail-in Rebates
The cash-back is not immediate. You must pay full price and wait for the refund check to arrive in the mail.
It requires some effort to fill in the required forms and send the required documents to the manufacturer.
Typically, the rebate check takes several weeks to arrive.
There is a chance that something can go wrong in the process that delays the rebate. Depending on the amount of the rebate, these delays may not make sense to sort out from a time/cost perspective.
Mail-in rebates are a good way of saving money if you are ready to put in the effort of sending the required documents to the manufacturer. You should, however, read the terms and conditions carefully to avoid any disappointment. Also, be sure to send the forms out as soon as possible. This ensures they receive the rebate before the promotion period expires as well as helps to ensure you receive your check quickly.
In most cases, mail-in rebates are going to be a check. They could also be discount vouchers, coupons, or gift cards from the manufacturer. Whatever the case, make sure that you check their validity and use them in time.
If you do receive a paper check, you should deposit or cash them as soon as possible. If you are careful with following the steps correctly, you will be able to reap the benefits of mail-in rebates and possibly save quite a lot of money.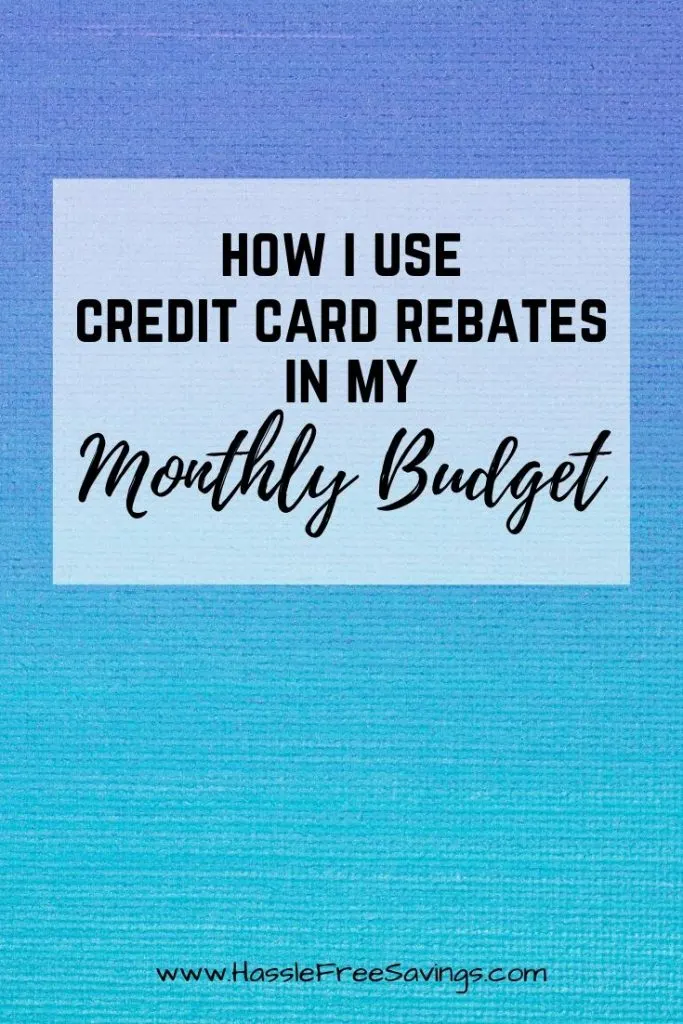 Cash Rebates
What is a Cash Rebate?
A cash rebate or a cash back rebate is where you, as the buyer, will receive a specified dollar amount back when you purchase the item in question. This is similar to the way a coupon works and the rebate can be offered by any of the parties involved in the transaction. This could be the retailer, the product manufacturer or even your own credit card company.
Cash Back Rebates with your Credit Card
This is a budgeting website so remember, you shouldn't be using your credit card to buy things you can't afford. I do realize, though, that credit cards are convenient for online purchases. They can also offer great rebates. My Discover card, for example, has awesome cash back promotions all the time. The best is the 5% cash back they offer for Amazon.com, Walmart.com and Target.com during Christmas. Let me tell you, that REALLY adds up for me!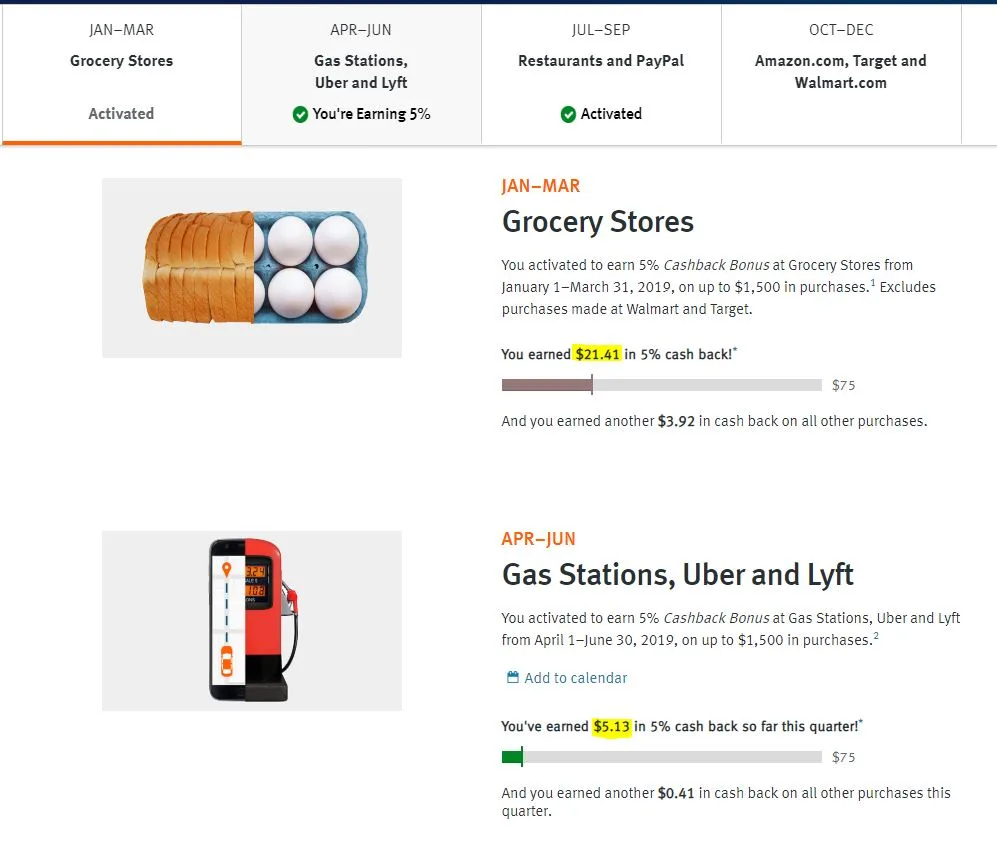 I actually use my credit cards cash back rebates to save money each month as part of my normal budget process. Invariably one of my cards will be offering cash back rebates on gas, groceries, dining out, etc. Typically these rotate on a quarterly basis. I think I have three different cards right now that have cash back of some type.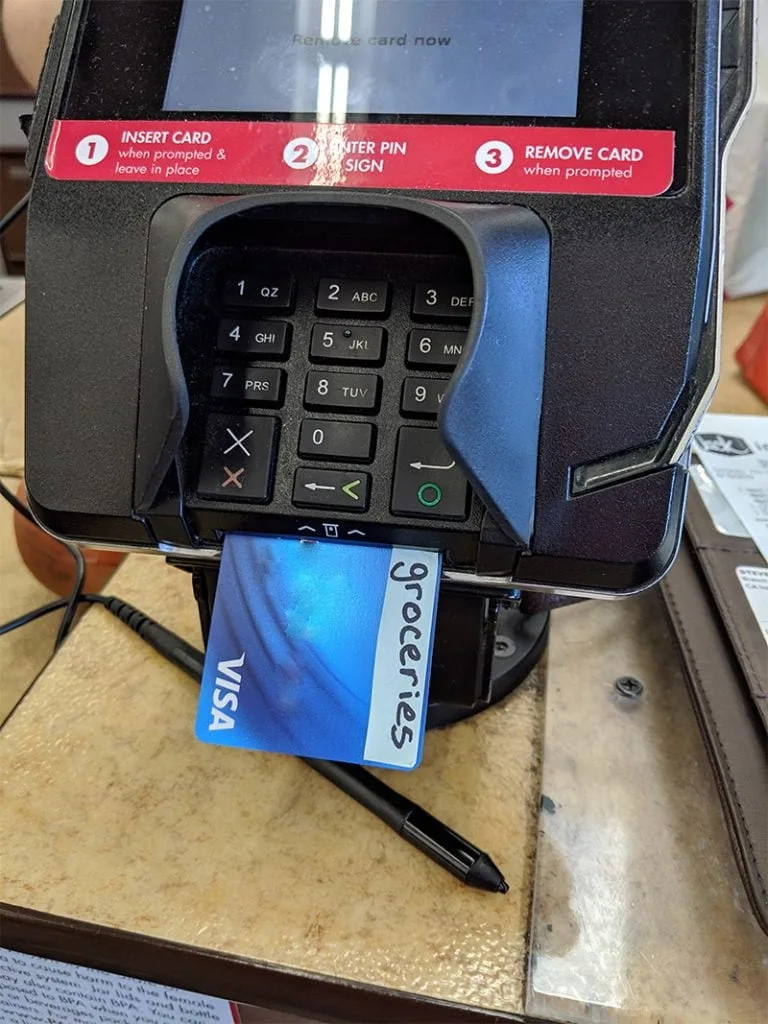 This quarter with Discover I'm saving 5% on Gas Stations, Uber, and Lyft. Next quarter it will be Restaurants and Paypal. My Chase Freedom card is saving 5% on groceries. In order to remember which card is offering which discount, I write the discount category on the top of a Post-it, cut it to size and put it on the card. You can see an example of that above on my Chase credit card. They stay surprisingly well. I only use my card for that category so it is easy to stay on budget.
Final Thoughts
How do rebates save you money? It really depends on the type of rebate. Rebates are always great to keep an eye out for. If you are really good at looking for deals and discounts it should be possible to earn rebates on 90% or more of your retail purchases. Think about that for a second. If your retail or in store (or online) spending totals $1,000 per month…it could be theoretically possible to earn almost $30 per month back in rebates. Multiply that by 12 months and you have saved $360 in a year.
The easiest ways to get access to rebates is through Ebates or your Credit Card cash back program. Combine the two and you may be able to double up some months. I haven't tried it yet but I plan on it!
One key point to remember with rebates though is that you need to shop according to your budget. We've given you instructions on how to make your first budget. Remember to stick to it even when it seems like a rebate or discount is too good of a deal to pass up.
RELATED POST