*This post may have affiliate links, which means I may receive commissions if you choose to purchase through links I provide (at no extra cost to you). As an Amazon Associate I earn from qualifying purchases. Please read my disclaimer for additional details. Thank you for supporting the work I put into this site!
When your children enter their teenage years, one way of getting to know the kind of company they keep is by having them call their friends over for a sleepover. This is the perfect way of interacting with your child's friends in an environment that everyone is comfortable.
Sleepovers are super fun to organize, and teenagers actively participate in making the arrangements for these get-togethers. Thus, sleepovers give you a chance to meet your children's friends, and also develop a bond with them.
Sleepovers can be arranged for birthday parties, during school vacations, after prom parties, etc. You should sit down with your teenager and make a list of friends they want to invite (keep the list restricted to close friends).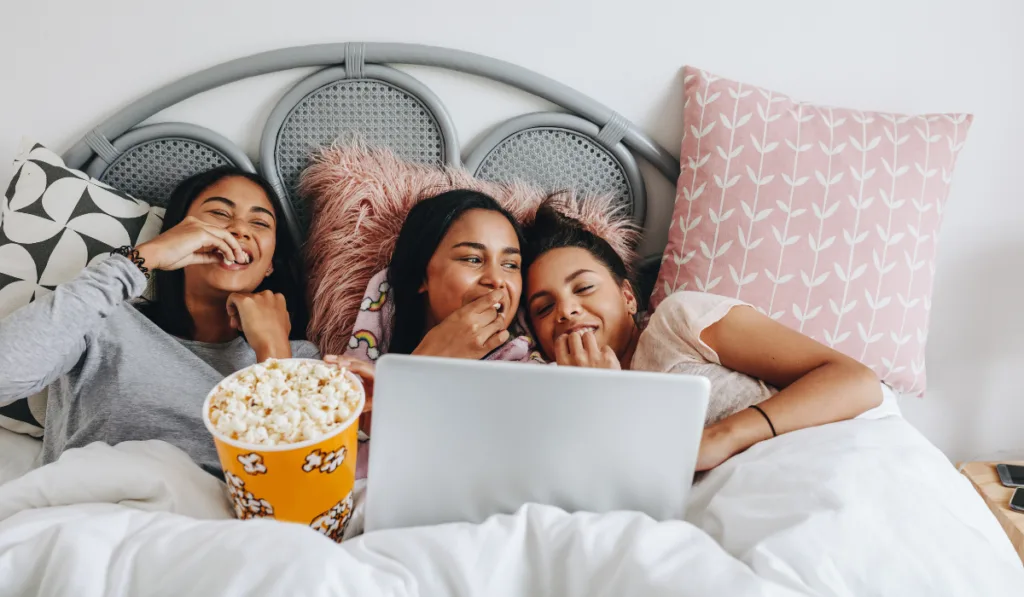 When sending out the invites you can mention that they can carry an overnight stay bag with their daily essentials, any medication which they take, etc.
Planning a sleepover party is also a great way to spend some quality time with your teenager. Plan some really fun activities which the children can do during the slumber party.
Choose the most spacious room in the house for the slumber party, discuss and lay down rules that the group of teenagers must follow during the sleepover. The rules need to include a restriction on alcohol and drug usage during the sleepover.
Now the most important part of a sleepover is definitely the food; the meals should be tasty as well as healthy. You should try to avoid pre-packaged foods and dry snacks.
Below are some healthy and pocket-friendly sleepover meal ideas. These are quick to prepare, easy to manage, and high on nutrition.
Tasty Taco Bar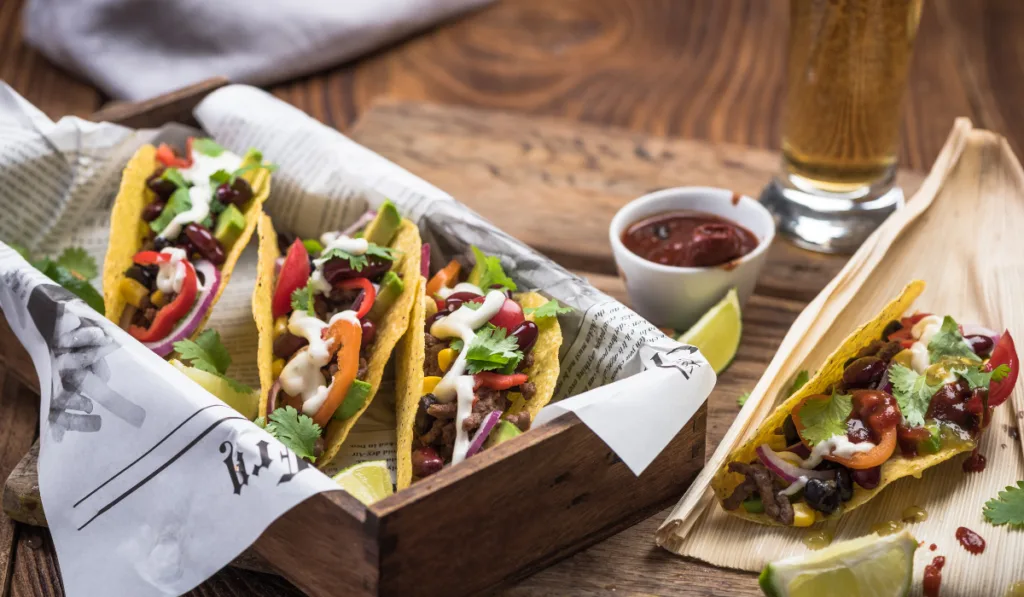 This is usually a hit with teenagers and is something that each teenager can customize on their own. This can be made in both vegetarian and non-vegetarian preferences.
The main ingredients required would be the Taco Shells (soft, crunchy, or both), a couple of meat options, diced peppers, tomatoes, onions, salsa, grated cheese, cilantro, etc.
The friends can pick up and make their own taco and this also ensures minimal food waste. With the teens getting a good dose of healthy veggies, this dish is among the most popular for sleep-overs.
Spaghetti Bar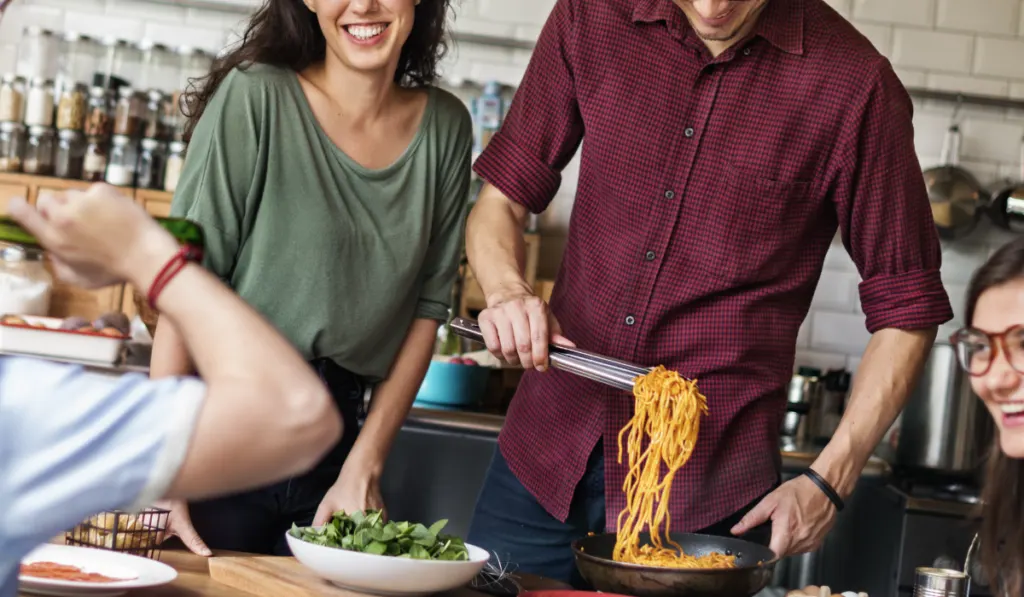 Along the same lines as the Taco Bar mentioned above, the Spaghetti Bar is also a hit with teenagers.
As the host parent, you simply have to keep a variety of boiled pasta noodles (penne, fusilli, etc.), a variety of sauces (alfredo, arrabbiata, pesto, etc.), and cooked meat options. Sautéed vegetables on the side with garlic bread make it a whole meal.
Your children and their friends can pick and choose the components they like. This gives them a feeling of independence as well as the feeling that you are considerate about their choices.
Wholesome Fruit Salads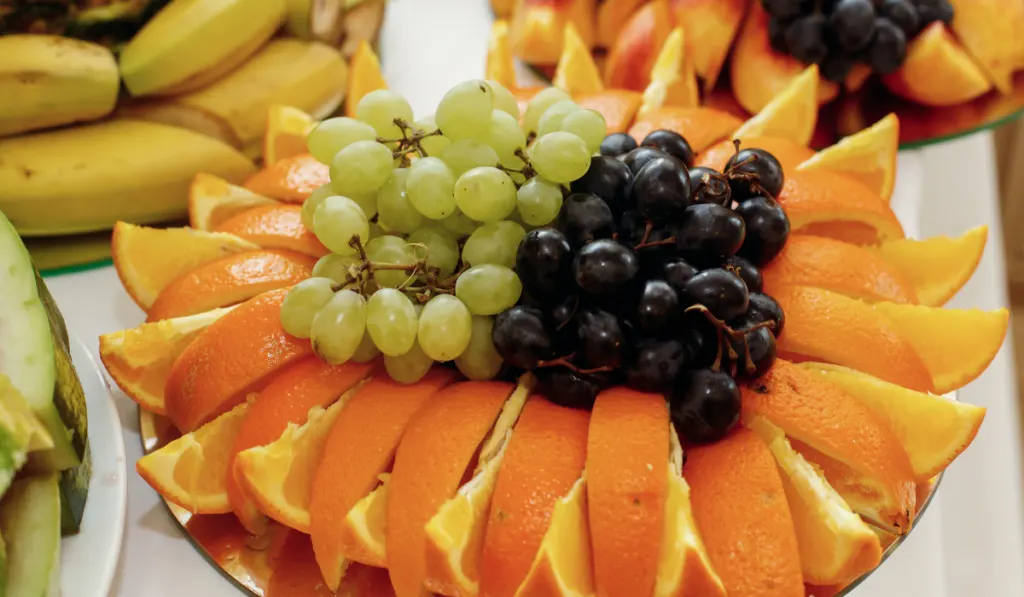 This is a healthy option for any health-conscious teenagers. You could just keep a variety of fruits like apples, pomegranates, green grapes, black grapes, oranges, limes, bananas (the list can go on) along with a choice of dry fruits like almonds, cranberries, cashew nuts, apricots, etc. ready.
Also offer basic ingredients for a salad dressing like lemon, honey, vinegar, mustard, etc. This is a healthy option for the teens that will probably also make their parents happy as well.
Again, because you involve the children in the whole task of creating their preferred meal or snack, they will have a sense of belonging to the whole get-together.
Sandwich Bar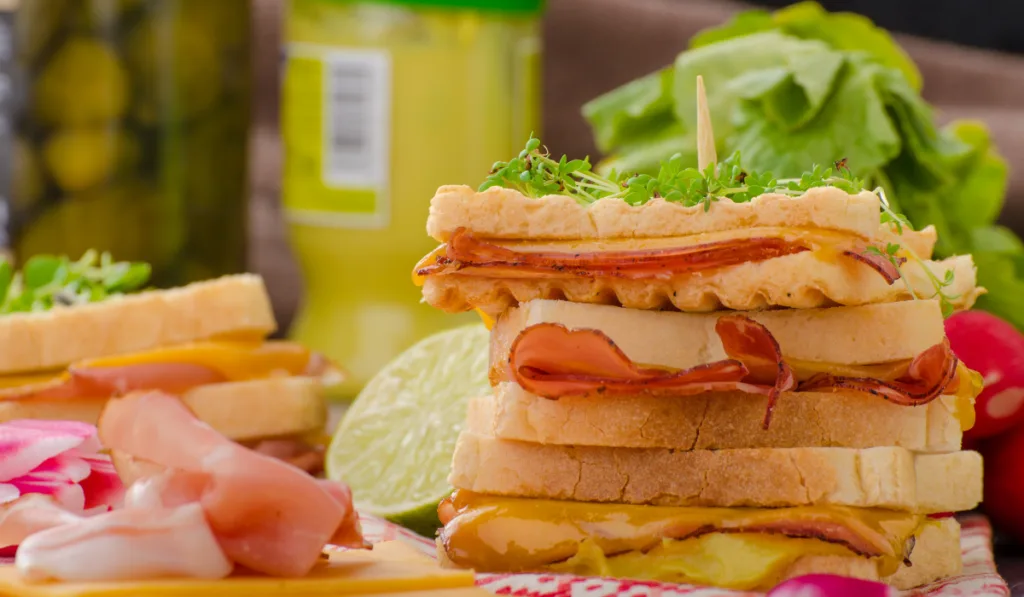 This option requires you as a host to do some prep work for a perfect jumbo sandwich meal.
You can get a couple of varieties of bread (parmesan, whole wheat, oregano), keep a choice of meat slices ( bacon, ham, salami), and other toppings like cucumbers, tomatoes, lettuce, mayonnaise, peanut butter, and cheese slices.
Doesn't this remind you of a sandwich shop where you can customize your own favorite sandwich? The kids will have fun putting their own sandwiches together and seeing which combinations are the tastiest.
Healthy Snacks with dips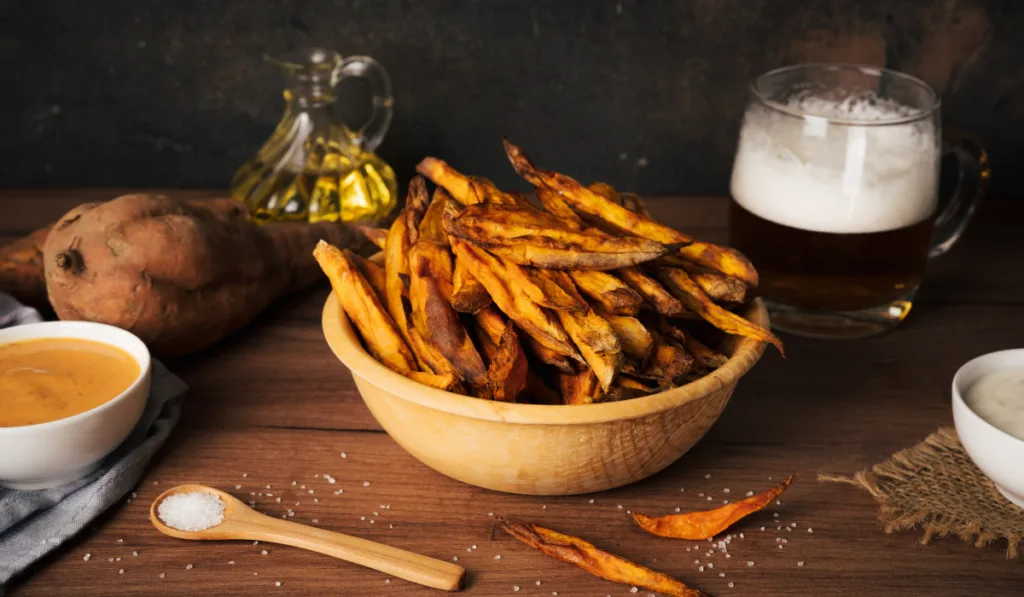 You can keep a mix of dips with crackers or vegetables on the side. These dips can be as simple as a plain cheese fondue! To make it interesting you can ask the teenagers to bring a dip of their own choice which they and their friends can enjoy over long conversations and fun activities. This snack idea is sure to be a hit!
Peppy Popcorn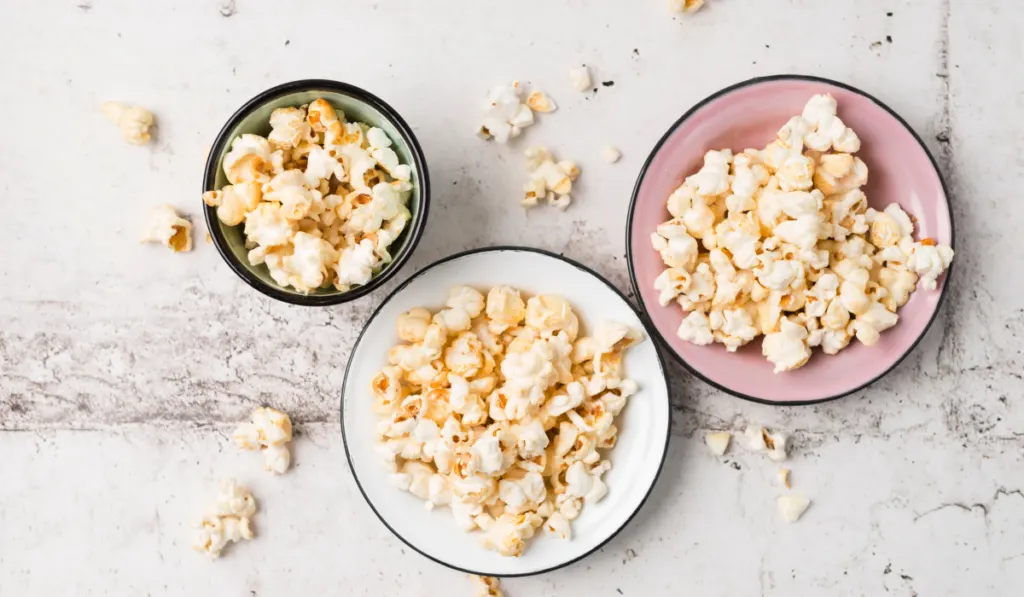 This is an all-time favorite snack for all age groups. A snack that can be eaten during a movie or munched while sharing gossip can also be a perfect addition to your teenager's slumber party.
You can provide the basic popcorn and ask the teenagers to bring along their favorite flavor to add. All-time favorite flavors are caramel, cheese, chocolate, honey…the list can go on! Your teenager can even serve the popcorn without your help.
Delectable Desserts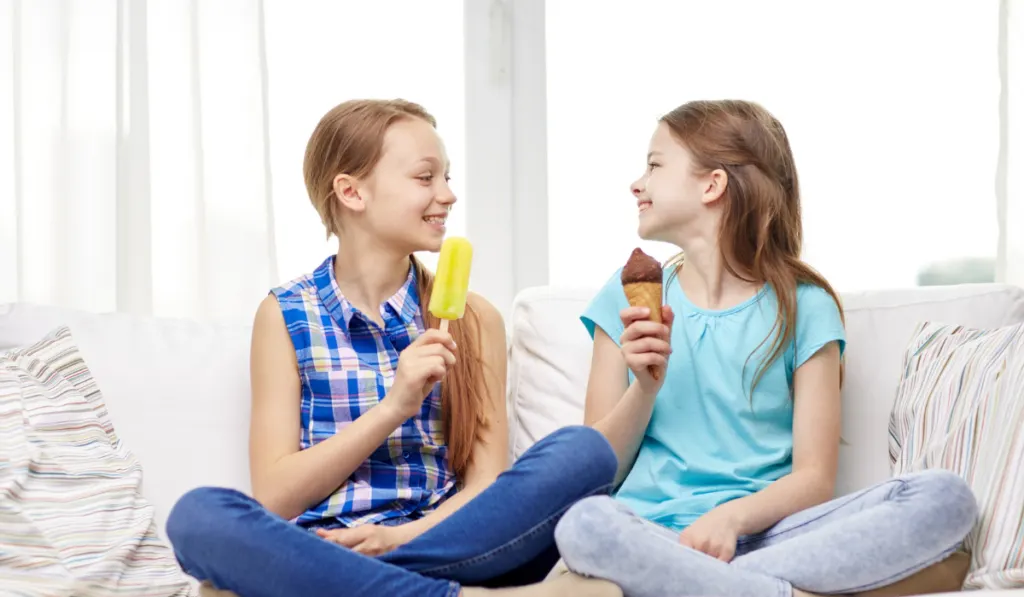 The best part of every meal is the dessert. You can supervise your teenagers and their friends creating their own Sundaes. Provide flavored ice-creams, with a variety of toppings which the teenagers can choose from.
These toppings can consist of sauces like chocolate, honey, caramel, etc. You can have colorful sprinkles, Choco-chips, brownie bits, crushed Oreo cookies, and almonds or walnuts as toppings which the teenagers can add to their Sundaes.
All the above meal options are simple and would fit in your budget for your teenager's slumber party. You can also spend time planning fun games and activities for your teenagers and their friends. You should try to stick to the traditional fun activities like karaoke, charades, truth or dare, telephone, etc.
Let the teens have their privacy and only check in from time to time. This will help you gain your teenager's confidence. Organizing a slumber party is not that difficult and doesn't have to drill a hole in your pocket if you follow some simple rules. So, go on and let your teenager invite their friends over for a sleepover!