*This post may have affiliate links, which means I may receive commissions if you choose to purchase through links I provide (at no extra cost to you). As an Amazon Associate I earn from qualifying purchases. Please read my disclaimer for additional details. Thank you for supporting the work I put into this site!
Start a blog they said, it will be easy they said. For me, blogging is the easy part. I love writing and finding images, creating content that (hopefully) others will enjoy. The thing is, in order to have a successful blog, you need to be active with social media. This month I switched to CoSchedule and I thought it might be helpful for you to learn why.
Evaluating What You Need in a Content Scheduler
I've used a few different content scheduler's before CoSchedule. My favorite to date was MeetEdgar but the price for a small blogger, like me, is prohibitive.
From MeetEdgar I switched to SmarterQueue for content scheduling. The pricing was definitely better. I really couldn't "get into it" though. I had it for a few months and would never remember to go in there and add new content. It did it's thing, auto posting and recycling content like it should but I knew I wasn't getting the most out of it because I wasn't actively going in and scheduling posts.
This is where my search for a new tool began and I think I've found a great one in CoSchedule.
CoSchedule Features I Love
It's RIGHT IN my blogs. At the bottom of every post, right inside WordPress. It's in my face so I can't forget about it.
I can set up "task lists" of all the things I need to do and when I need to do them before publishing a new post.
I can set up tasks for all the steps I need to take AFTER the blog has been published to properly promote it. I LOVE THIS.
I can let CoSchedule handle recycling content via it's "ReQueue" feature.
Things that Took Adjustment
I had to think about the steps and timeline for publication. I think this is a good thing though. It is a great reminder of where to focus my efforts next.
A lot of the tutorials are based on working with teams. CoSchedule works fine if you are working on your own.
How I Use it for Each Post
The big three features I use in CoSchedule are:
Headline Analyzer
I try to get at least a 70% for my headlines. What is great is that I can try out new headlines and recalculate the value. Love this feature being built in because it reminds me to do it!
Setup Social Media Posts
It's awesome that CoSchedule puts this feature right in WordPress. When you click the social campaign you are prompted to add a post same day, next day, next week, next month and custom time. This is a great reminder to get those scheduled NOW so you don't forget about them later!
Schedule Tasks
I don't do much of my post "pre-planning" in CoSchedule. Once I get to the point where I am in WordPress though, CoSchedule is great for setting up reminders. My Pinterest strategy, for example, involves pinning the images for each post over several weeks. I can easily setup CoSchedule to remind me that it is time to look for another pin for this post. LOVE this feature!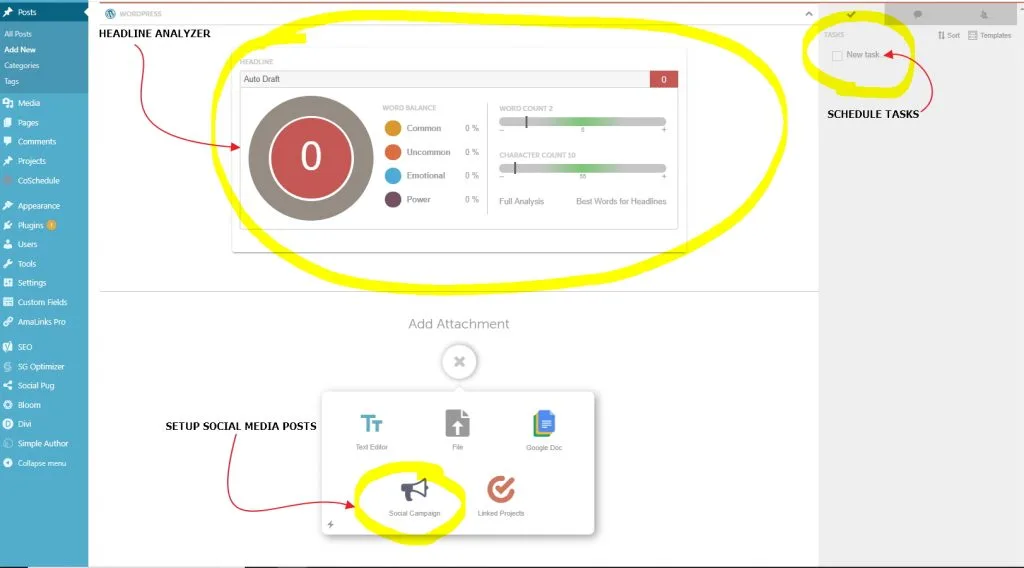 The great thing is, everything is very conveniently laid out at the bottom of my post. For me it nestles right after Yoast SEO and right before Tasty Pins. It's a win, win and I never forget to fill it out.
Cons to Using CoSchedule
On the individual plan, co-schedule isn't feasible for Pinterest scheduling if you are using Tailwind. If you are like me, Tailwind has 20 – 30 pins it posts every day. The Individual Plan doesn't allow filtered views for the calendar. Having that many Pinterest pins showing up as "published" (which they are) render the calendar useless in my opinion. Once I deleted Pinterest as a social media platform, my calendar was useable again.
You could use CoSchedule to manage Pinterest but, in my opinion, let Tailwind do what Tailwind does best and CoSchedule can handle the rest.
Should You Use CoSchedule?
If you are looking for a social media tool that is "in your face" that you will be forced to remember to use, CoSchedule is perfect for that. You'll never forget to import your RSS feed or announce a new post again. The calendar feature is great so you know what is going out when.
The great thing about CoSchedule is their free trial. Try it, use it. Let me know what you think in the comments below!
Interested in other articles about blogging? Check these out: