*This post may have affiliate links, which means I may receive commissions if you choose to purchase through links I provide (at no extra cost to you). As an Amazon Associate I earn from qualifying purchases. Please read my disclaimer for additional details. Thank you for supporting the work I put into this site!
So lets get real for a minute. Not ALL bloggers need hosting, not all websites are blog, and not all web-hosts are created equal! I, like many bloggers who promote specific hosts, make a commission when people use one of my referral links and wind up purchasing blog hosting (don't worry, whether or not you use a referral link doesn't affect YOUR pricing, that is the same either way). With that being said, I do realize that having a hosted blog isn't necessary or, sometimes possible, for all bloggers. What are the best blog hosting sites for beginners?
I use and recommend BlueHost. I also have one of my sites running on SiteGround. I think BlueHost is the easiest of the two to get setup with a WordPress blog and their lowest package is more than sufficient for new bloggers and super easy to setup.
Setting up a blog for the first time can be a daunting task. Even more so if you start adding up all the product recommendations in the blogging industry. The more you blog, the more you'll want to automate the process of everything you should be doing to promote your blog but you can also do almost everything manually without paying a dime. If I had to recommend only ONE paid item, I would recommend hosting hands down. In fact, you can get paid hosting for only $10. Here are some pros and cons:
Why You Should Pay for Blog Hosting
With paid hosting your blog will show up as www.yourblogname.com.
With free hosting, your blog name is more likely to be something like www.yourblogname.yourfreehost.com. Having your own domain presents a level of authority to your blog reader. It tells them right away that you are serious enough about having a blog and giving them great content that you have your own domain.
You control ads / ad revenue.
When you self-host through companies like Blue Host and SiteGround, you control any and all ads on your site. YOU get to decide whether to use any ads at all, how many to have, where to place them etc. YOU also get any revenue from those ads. Check out my monthly income reports. Revenue may not be large when you get started but YOU are earning it and YOU are in control of it. Sites that offer free hosting often place ads throughout your site. The difference here is you can't turn them off with a free account AND you receive zero revenue from them. If your free host does place ads on your site, any and all revenue they generate goes straight to the website hosting company.
Free Blog Hosting
When is free blog hosting ok?
When You Really Can't Afford It
Blog hosting companies I recommend DO charge for a year up front. While the per month fee is low, if you REALLY can't afford the first twelve months hosting AND you don't think you can within the next 4 – 6 weeks, then I do believe it is better to go ahead and get started NOW vs. having money be an excuse to not blog.
When you aren't sure if you are going to stick with it.
If blogging is something you have wanted to do for a long time but have maybe found intimidating or just aren't sure it is going to work for you, then free hosting may be the best option for you at first. I have a passion for writing, and teaching, so I knew I'd be able to stick with blogging. I'd say use this as a test. Sit down with a pen and paper and see if you can come up with 25 – 30 blog post titles off the top of your head. These should be subjects you know well and would love to write blog posts about. If you can do that pretty easily, you should probably be paying for hosting. If you struggle with it, or aren't quite sure, free-hosting may be your best bet until you settle into things and get more comfortable with blogging.
Recommended Paid Hosts
Blue Host Blog Hosting
Easy and automatic WordPress install.
Includes domain name.
SiteGround Blog Hosting
WordPress install is easy enough.
They often offer free website migration service which is great if you are switching hosts.
Windows Hosting
A2 Hosting
If you need windows hosting for some reason, I recommend A2 Hosting. Both SiteGround and Blue Host are Linux based which is fine for most bloggers but some applications require Windows based hosting. If you fall into that category A2 is a good starting point.
They ALSO offer Linux based hosting as well!
FREE Blog Hosting Companies
FREE plan is all the way at the bottom.
If you upgrade to a paid plan, you have to pay for 1 year in advance just like the hosting companies above.
You are starting out with WordPress…this is awesome. If you NEED to convert your site to self-hosted via BlueHost or SiteGround, you will have already been familiarizing yourself with the WordPress platform so the transition will go much, much smoother!
The paid plans may look appetizing but are very restrictive. Click on "compare plans" to see details of what you can do and, more importantly, what you can't.
Personal plan does not allow advertising but removes their ads.
Premium plan allows advertising but is already more expensive than both paid hosting plans above…and you can't use a third party theme.
Business – You should be able to access all of these items.
FREE plan available on their home page.
Can pay monthly when you upgrade vs. 1 year in advance (the monthly fee is HIGHER than the displayed rate but clearly defined before checkout).
Drag and Drop Website Editor – This makes it very easy to build a website very quickly. (If you take the time to learn WordPress…I truly believe you'll be happier down the road.)
The paid plans are even more restrictive than WordPress.
Their cheapest, Connect Domain, is still more expensive per month than the hosting companies referenced above AND they still put ads on your site. So you get the .com but you still don't have control over whether or not your site has ads and you certainly can't earn any revenue from them.
Their second plan, Combo, is more than double the per month fee for BlueHost and SiteGround.
So what should you do?
You have options, you have choices. Don't feel pressured into buying hosting if you really can't afford it or if you are not sure you are going to stick with blogging. If you can, and if you are ready, purchase hosting now. Even if it is the ONE blogging related item in your budget for the next year. You can do EVERYTHING else without spending a dime, it can get tedious and manual, but you can get it done.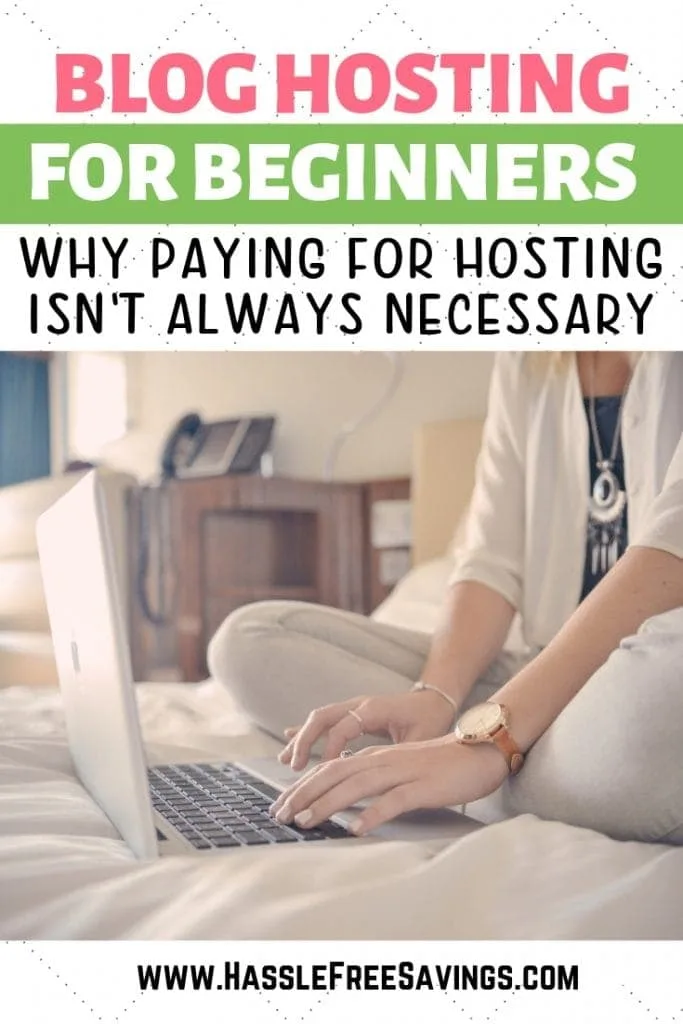 RELATED POST